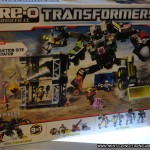 For the Transformers Kreo fans, there were a few new sets revealed today. Chief among them is a very large Devastator Kreo set. It's going to include 560 pieces, and can be put together 9 different ways. You can put the pieces together to form all 4 robots that make up Devastator. You can also build all 4 robots in vehicle mode, and of course build Devastator himself. The set also includes 6 mini figures, and some construction site set pieces to build a truly awesome scene.
The Devastator Kreo set is slated for release in Fall of 2012, and will have a price tag of $79.99
Continue after the jump to see all the new Kreo sets, including Devastator!