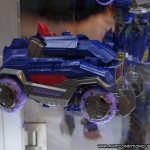 During the Hasbro Toy Panel, they revealed a new size class for the Transformers: Fall of Cybertron toy line. They're going to make a Voyager sized Soundwave based on his design from the game! This was a huge surprise to the fans in the audience.
His design hasn't altered too much from the first game, but the figure looks great. He looks big, and he has friends! Soundwave will include his 4 original tapes, Buzzsaw, Rumble, Ratbat, and Frenzy. However, now they're not tapes but instead they're "Data Discs". They look like thick oversized CD's and fit right in Soundwave's chest. Also included are some Decepticon themed cases for the discs to sit in that you're not currently using for Soundwave.
He looks like he's going to be quite an amazing figure. Continue after the jump for lots of hi-def photos!