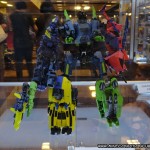 Hasbro had set up a display of Transformers: Fall of Cybertron figures, some of which have only previously been seen in promotional photos. On display were Fall of Cybertron Optimus Prime, Jazz, Shockwave, and all 5 figures that will make of Bruticus: Blast ooff, Brawl, Onslaught, Swindle, and Vortex. Also revealed for the first time is an Insecticon based on the game designs from Fall of Cybertron.
All of the figures are deluxe sized, and will be in Transformers Generations packaging. The 5 figures that make up Bruticus will be released in October of this year, and the rest will be released in August of this year.
They will all retail for $14.99.
Continue after the jump for tons of hi-def photos of all the new figures!