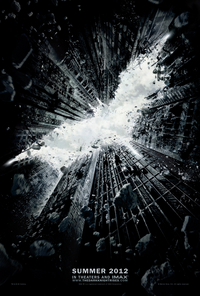 The folks over at Cool Toy Review have uncovered a few details for Mattel's upcoming "Dark Knight Rises" movie based toys. Included in the information is a reveal of the collect and connect toy that is coming packed with the Dark Knight Rises Movie Masters figures. And boy, is it a very exciting collect and connect!!!
Click the headline, or click the link below to find out what it is!
MOVIE MASTERS FIGURES:
This assortment is all about the collector with 6-inch Movie Masters® figures designed with authentic detail and supreme quality. Collect every figure available in 2012 and receive pieces that can be assembled into a BATSIGNAL. Not only does the BATSIGNAL light up, but it also projects on the wall! Ages 4 and older.
THE DARK KNIGHT RISES QUICKTEK FIGURES:
This assortment gives fans of THE DARK KNIGHT RISES the ability to gear up with BATMAN™ and fight all the villains in GOTHAM CITY. Kids can instantly change BATMAN™ into fighting gear, revealing an arsenal of weapons and accessories with a surprise reveal. Criminals beware! Ages 4 and older
THE BAT VEHICLE:
The new air attack vehicle of BATMAN™ is brought to life with launching projectiles, battle sounds and a BATMAN™ figure that launches higher than 10 feet!
Opening on July 20, 2012, "The Dark Knight Rises" features an international all-star cast, led by Oscar® winner Christian Bale ("The Fighter") in the dual role of Bruce Wayne/Batman. The film also stars Anne Hathaway, as Selina Kyle; Tom Hardy, as Bane; Oscar winner Marion Cotillard ("La Vie en Rose"), as Miranda Tate; and Joseph Gordon-Levitt, as John Blake. Reprising their roles from both "Batman Begins" and "The Dark Knight," Oscar® winner Michael Caine ("The Cider House Rules") plays Alfred; Gary Oldman is Commissioner Gordon; and Oscar® winner Morgan Freeman ("Million Dollar Baby") plays Lucius Fox.
Wow! That "The Bat" vehicle sounds really cool, but I doubt it will be scaled to 6 inch figures. I am so excited about the collect and connect Batsignal though! I knew it was going to be a Batsignal, but I never thought it would not only light up, but project on the wall! I can't wait!!!
Tell me what you guys think in the comments!