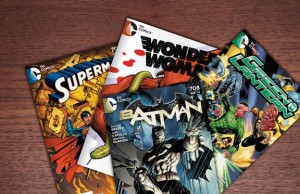 Looks like DC Comics is getting a makeover. This press release was sent out regarding the new logo design for DC Comics:
DC Entertainment, a Warner Bros. Entertainment company and home to iconic brands DC Comics, Vertigo and MAD, revealed today a new brand identity. The new identity is reflective of the company's mission to fully realize the value of a rich portfolio of brands, stories and characters, distinguished by incredible breadth and depth across publishing, media and merchandise. A new logo for DC Comics was also introduced, closely aligning with DC Entertainment's new mark.
Click the headline or the link below to read more about DC's new Logo and to see a ton of images showing it off.

The news of the new logo certainly comes as a surprise to DC Comics fans. Personally, I don't like it. It looks like the logo to an operating system start up logo or something. And to non hardcore DC fans, it may be tough to decipher upon first glance. I personally think the last logo they had was perfect.
What do you guys think? Do you love it or hate it (I have a feeling what the majority of people will think)? Let me know in the comments!