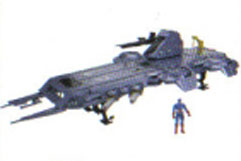 Thanks to MarvelousNews we have confirmations as well as verbal descriptions and photos of the new Avengers Movie based Quinjet and a new 3 feet long Shield Hellicarrier toy. Thanks to Dark Horse who posted the following information over on The Red Shadows message board.
More after the jump!
The Justice jet gets an IM style repaint, there's a new Cap vehicle that looked like a small tank with wheels, the Quinjet and the HELICARRIER!
Helicarrier is three feet long, has the usual firing missiles. Looks pretty good but is only big enough for the Quinjet to fit on it's runway. The Quinjet is pretty big. Only one figure can fit in the cockpit but it has other opening panels and stuff. There were no new Avengers figures apart from what has already been seen.
Hellicarrier: The biggest ever Marvel vehicle of 3ft. Comes with Captain America figure and features 4 firing projectile deck cannons.
Quinjet: The 'Quin' nassential Avengers vehicle. This flying fortress can convert to battle mode and take the Avengers into the fight with plenty of firing projectiles and play features – like a sky cycle. Includes a Iron Man figure.

Also shown was a sort of catalog for some Avengers movie toys. Click the image to enlarge.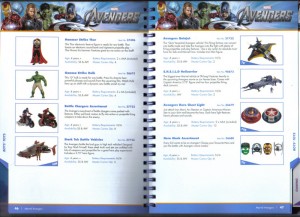 So what do you guys think? I think it's pretty great personally.  A 3 foot long Hellicarrier? Yeah, even for 3 3/4 inch scale it's small, but playsets and vehicles have never been to scale so it's still really great that they're making this. I don't collect MU (only 6 inch Marvel Legends for me), but I'm very tempted by these I must say.
Let me know what you think in the comments!