The folks over at Cfaddicts have posted some images of upcoming DC Direct Batman products on their Twitter page. Shown are the following:
DC Direct Arkham Asylum Series 3: Clown Thug, Ra's Al Ghul, Batman, Azrael and Penguin
Click "more" to see images of all the new figures!
I'm definitely excited about Ra's Al Ghul and Azrael. Those are surprises. I'm very excited about the Joker Thug too. He looks like Mr. Hammer, but he has both of his arms so I suppose he's just a random Joker Thug.
Also found, on the Idle Hands blog is an image showing off several of the DC Direct Arkham City Deluxe figures, featuring Titan Joker, Killer Croc, and Mr. Freeze. I'm not sure why Mr. Freeze is being billed as a Deluxe figure though. He's not that big.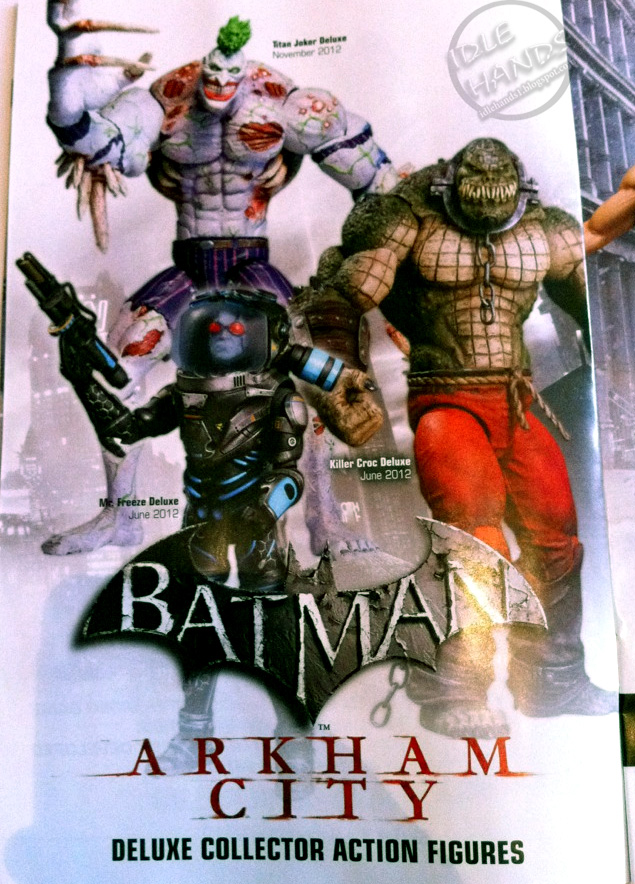 And also shown off, thanks to CFaddicts, is an image showing off some Dark Knight Rises statues coming out, courtesy of DC Direct.
12″ Dark Knight Rises Statues: Bane, Batman, Catwoman
So what do you all think? When I saw these photos I was incredibly surprised by these product reveals, mostly about the DC Direct Arkham City figures. I can not wait to get my hands on EVERY SINGLE ONE OF THEM. Haha, but seriously they will be mine.
Let me know what you all think in the comments.