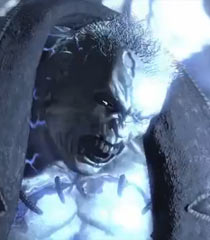 While scouring the internet today, I stumbled across some very interesting news regarding DC Direct's Arkham City toy line. It seems there are plans to release an Arkham City Solomon Grundy figure.
This hasn't been officially announced anywhere, but I stumbled across it while watching a video someone recorded back at the New York Comic-Con last October while at the DC Direct Booth.
More after the jump!
You can view the video here. It starts at the 8:30 mark. Just listen for a few seconds and you can hear the people recording the video asking the person at the DC Direct Booth about the Arkham City Deluxe figures (Titan Joker, Killer Croc, Mr. Freeze). After talking about them for a couple of seconds, he says that:
"…we also have a Grundy coming out at 13 inches tall"
What I find strange is that I never saw this announced anywhere by any of the toy news sites. Perhaps this video was the only mention of an Arkham City Grundy and the person who spilled the beans didn't mean to. Perhaps they did have Grundy planned, but he's been cancelled.
I can't say one way or another 100%. What I can say is that someone from DC Direct has said that a 13″ Arkham City Solomon Grundy is on the way, so until I hear them say otherwise, I think we can probably expect that sometime this year.
He also says in the video that the price point for the deluxe figures was going to be somewhere between $50-$60, but all of DC Direct Arkham City wave 3 is currently up for preorder on BigBadToyStore.
The deluxe figures of Titan Joker, Mr. Freeze, and Killer Croc are priced at $39.99 apiece, so it appears as if DC Direct found a way to lower the cost.
What do you guys think? There are no photos or prototypes, but just to hear the words straight from DC Direct that we're getting such a huge Arkham City Solomon Grundy figure is pretty cool. Let me know what you think in the comments.