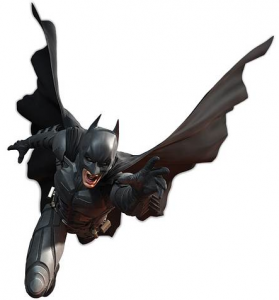 BatmanNews.de posted a scan of a catalog giving us our first look at Mattel's upcoming line of toys based on the new "Dark Knight Rises" movie from Warner Bros. and Christopher Nolan. The info is in German, so here is a rough translation of what is shown, courtesy of Google Translate:
More after the jump!
Quick-Tek Batman figures (Batman and Bane) € 13.38 each:
Super cool! Super fast! Figure put in the box and press the button. In seconds, Batman is equipped with armor and weapon!
Batman Basic Figures (Batman and Bane variants) € 8.81 each:
To re-enact the movie's most thrilling moments and build an impressive collection! With all the familiar Batman characters
Bat-Pod € 32.22:
The bike will be a button to fire a projectile and reinforce changes in the blink of an armor.
Batman Quik Tek vehicle & figure:
Pressing a button, and immediately turned the car and is ready for use (eg vehicle in plane)
Giant Batman figure € 36.18:
Cool about 25 cm tall Batman figure. When Batman needs stretched his wings and is ready for use in the air.
REMOTE CONTROL BATMAN VEHICLES
Batman Batmobile RC € 61.16
Cool Remote Controlled Batmobile! With a fully functional control and ready to use weapons Kids can immerse themselves in the adventure.
Batman RC Mini Rides € 39.44 per
These RC cars look cool and are easily controlled by pushing a button. Perfect for younger boys.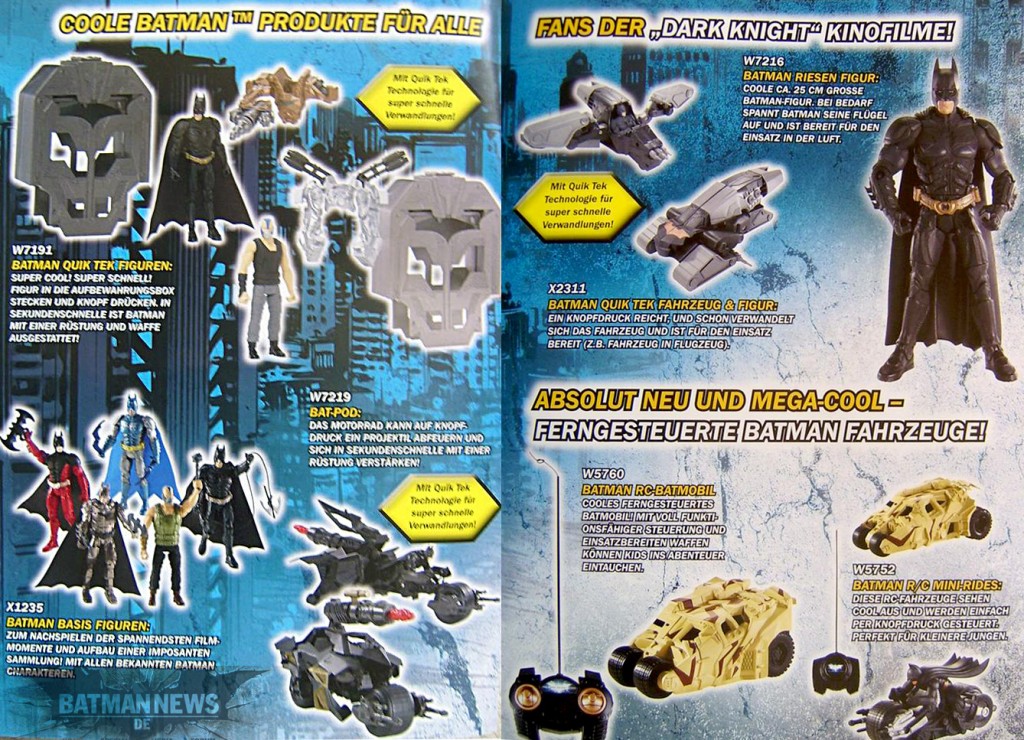 From what I can tell, there are no Movie Masters figures in this scan. They are only 5 inch and 3 3/4 inch figures, along with vehicles and RC cars. The Batman in the far upper right corner appears to be a very large figure, similar to what Mattel gave us with the Dark Knight line.
I personally am only going to collect the Movie Masters (especially since we're getting a Batsignal!), but it is cool to see something in regards to the Dark Knight Rises toys.
Also, Catwoman seems to be absent from any of these figure assortments which is rather odd. Perhaps they're only making her in the Movie Masters line, or just in a future assortment for the smaller figures. I wouldn't be surprised if they don't make her in the smaller scale, since figures aimed at small boys usually stray away from female figures. I guess we'll just have to wait and see.
Let me know what you all think in the comments!