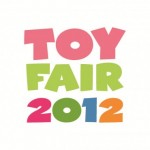 I did not attend Toy Fair this year and have no photos of my own to show off, but I would like to provide a list of what was shown off and provide links to photos that other sites took. I'll try to make it as comprehensive as a I can, and I will be elaborating on some particular figures that I am very excited for. I'll update the list as the news and photos come in. Please, join in the discussion.
More after the jump!


Bandai Japan: Via ToyArk
I am very excited for the Trunks figure. He comes with 7 different faces, 12 different hands, two sets of hair (regular, and Super Saiyan), and of course his sword. Wow. The display options alone are tremendous. I can't wait to own him.
DC Direct – Via Toy News International
No Arkham City figures on display, it looks like. Neither old nor new. I was hoping they'd show off the Azrael and Ra's Al Ghul figures, and maybe Solomon Grundy (or at least provide some details about him). I guess we'll just have to keep waiting.
Hasbro – Via Toy News International
G.I. Joe – New figures shown off:
Blind Master – It's an action figure of The Rza. Very awesome.
Jinx – I knew they would make this version. I like it.
Lady Jaye – Good head sculpt, but the body is a repainted Renegades Scarlett.
Joe Colton – Fantastic. Gotta love Bruce Willis, and I dig his outfit.
Flint – Hey look he has a beret. Awesome. He needs some webgear though. The rest of him appears to be reused.
Firefly – Love the heads, the body is ok (albeit skinny). Not digging the paint job.
I'm not sure why the only movie accurate figures in this line are Jinx, Roadblock, and Snake Eyes. It's very weird to me.
Star Wars – Via Toy News International
Marvel Universe – Via Marvelousnews
Marvel Legends – Via Marvelousnews
Not very excited for the new Blade figure. The head sculpt is great, but everything else looks to be reused, and pretty poorly. Too bad.
For more photos and story on the Marvel Legends display and panel, visit Dave Huffman's site, MarveLegends.Net. It's a great site in general with photos of every 6 inch Marvel figure made.
Jazwares – Via Toy News International

LEGO – Via Toy News International

Mattel – Via Toy News International

Cars
DC All Stars / Club Infinite Earths
Black Mask – Wow, this one was a surprise. He looks great. I hope he comes with some guns though. I'm always for adding more villains to my Batman display.
Poison Ivy – Beautiful. Just beautiful. I can't wait to get her. I've been waiting for the perfect Poison Ivy figure, and this is it. I love it.
Ghostbusters
Masters of the Universe
The Dark Knight Rises
Bane – Looks really good. Even looks like he has an ab crunch which I really appreciate even though I'm sure in real life Tom Hardy couldn't do a crunch in that thing. I love that they gave him his coat, but hopefully there will be a coatless version down the line. If not, I will make one no problem.
Catwoman – Also looks great. I can tell it's Anne Hathaway, and the figure is very detailed just as her suit is in the new movie. I hope her spy goggles flip down over her eyes and she includes a whip or something (if she even uses one in the movie).
Batsignal – Best thing about this line. I can't wait to own this. I've been waiting for a batsignal for a long time, and according to Mattel it will not only light up, but be able to project on the wall. Wow. It just looks fantastic.
Looks like there is going to be 6 figures total in this line, so I can't wait to see who the other 3 are.
McFarlane – Via Toy News International

Mezco – Via Toy News International

NECA – Via Toy News International
Rocky – I very much look forward to getting these figures. The various Rocky figures look great, such as one with a bloody head with blood flying out of his mouth as if he just got punched, and Ivan Drago and Clubber Lang.
Evil Dead 2 – Also looking forward to this line, though I was sad that they didn't have any to show off, save for one unpainted prototype with the laughing deer head.

Playmates – Via Toy News International

Teenage Mutant Ninja Turtles – Very excited for these. The basic figures look very cool, and the sewer lair playset just looks amazing.
TMNT Classic (More Pictures Via ToyArk) – Of course I'm excited for these. They look fantastic, they're on the perfect scale (6 inch), and are super posable. What's not to love?
Square Enix – Via Toy News International
Alright, so far that's everything that was shown off and had photos taken of at the 2012 New York Toy Fair. I hope this collection of links helps, and please join in the discussion below in the comments. Let me know your thoughts on the upcoming figures and toys!