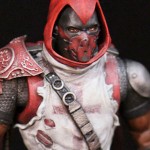 It seems DC Direct has added some figures to their display booth, including new Arkham City figures. Shown are the new Joker clown thug, which is the exact same sculpt as the one previously revealed, only with a different paint job. Also shown were the prototypes for Azrael and Ra's Al Ghul, which were only previously revealed as concept art.
Pictures after the jump!
What I have here are cropped images. The full images can be seen over at Toyark.com. Each image links to the gallery where you can see the full ones.
I was hoping they would show off the sculpts for Ra's Al Ghul and Azrael, and DC Direct did no disappoint. I'm very excited to get those figures. I still wish they had a prototype or at least some info regarding Solomon Grundy though. I guess we still have to wait for that.