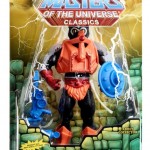 Yesterday Mattel updated their Mattycollector Facebook page with images of Stinkor and Thunder Punch He-Man in package, along with their bios. We've already seen Thunder Punch He-Man's bio, but this is the first time seeing Stinkor's.
Continue after the jump to see the photos and read the new bios!
Stinkor is currently scheduled for release in May:
Stinkor – Evil Master of Odors, Real Name: Odiphus
Originally a Pelezeean thief named Odiphus, Stinkor was banished from his village after helping a great warlord named Prahvus destroy their defensive weapons. Wandering throughout Eternia, curiosity led him to Tri-Klop's lab deep within Snake Mountain. There, he caused an accident that infused his body with a horrid stench so powerful it drives away even Skeletor's Evil Warriors. After demonstrating how his stench power could be used as a weapon of warfare, Odiphus was recruited back to Snake Mountain and armed with a Power Vest Gas Mask created by Tri-Klops to funnel his stench directly at foes. Armed for combat and calling himself "Stinkor". Odiphus has the ability to stink and destroy with his odor of evil.
Here are some notes about Stinkor from Mattel:
Note the vintage burst on the front! He comes with interchangable parts for 200X armor and vintage armor! He will be available in May on Mattycollector.com.
And Thunder Punch He-Man is currently scheduled for release in April (and will be released with the first of 3 new mini-comics):
Thunder Punch He-Man – Heroic leader with a Power Punch, Real Name: Adam of the House of Randor
When Skeletor banished Randor to Despondos, he used Faker to convince the royal court that He-Man was not only a Gar, but also responsible for the King's "death." This ruse turned the people of Eternia against He-Man and the Masters soon became renegades in their own land. Driving to the underground caves of Tundoria, the Masters reformed as an elite attack squad. They returned to the surface and found not only Skeletor ruling Eternia, but King Hssss and a newly returned Hordak also challenging for control. To enhance his strength for these new battles ahead, He-Man used the Powers of Grayskull to energize his weapons, giving them a new Thunder Punch to combat evil.
Here's a shot of Thunder Punch He-Man next to the new mini-comic: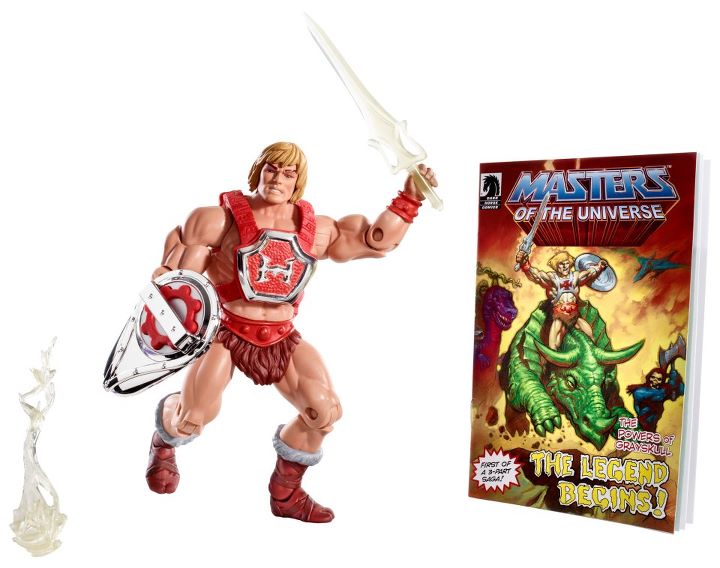 Here are some notes about Thunder Punch He-Man from Mattel:
Check out mini comic # 1 in the back just like in the vintage days. Pretty cool huh? Thunderpunch He-Man's bio is one we waited a long time to get to. We knew this one was a reason we say "keep reading the bios!".
The colors of the sword and punch effect were altered to be as close to the vintage color as possible.(although I don't think it is as "white" as it looks in this photo due to the lighting). He will go on sale in April on Mattycollector.com!
I think both figures look great. I'm especially excited for Stinkor. What do you guys think?