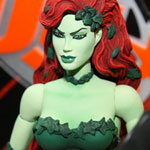 Yesterday, the release date for the Club Infinite Earths Poison Ivy figure was revealed in the Ask Matty Q&A session over on The Fwoosh. This is surprising given that an official announcement for Poison Ivy's release date haven't been released by Mattel yet, meaning the date could change.
More information and the release date revealed after the jump!
The reveal came when the following question was asked:
Thank you so much for coming through with DC IE sub, these are the types of characters that we want to see in our sub. A lot of the figures were still TBD at Toy Fair, do you know when the exact release dates will be revealed?
And Mattel offered this answer:
Atrocitus will be in April, Starman in May, Mirror Master in June, Flash in July and Pam in August. The remainder have not be announced.
Pam of course referring to Poison Ivy's real name, Pamela Isley. Again, I'd like to stress that this isn't an official announcement, but these questions are answered by Mattel PR representatives. The dates could still change (as they could even if this was an official announcement), but the most curious part is how Atrocitus is mentioned to be the first figure, released in April when it's been stated by Mattel (even yesterday in the Q&A session of a different website) that The Flash would be the first figure released in April.
So the person who answered this question could have just gotten The Flash's and Atrocitus' release dates mixed up. We'll just have to wait for an official announcement, but it is good to hear something about when Poison Ivy will be released.
What do you guys think?