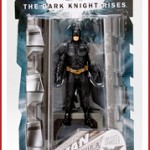 Earlier today, Mattel revealed on Mattycollector two new Batman The Dark Knight Rises Movie Masters figures. The two new figures revealed were that of Officer John Blake, played by Joseph Gordon Levitt, and Alfred, played by Michael Caine. They also showed off the new packaging for the TDKR Movie Masters toy line. Mattel originally stated that the TDKR Movie Masters line would consist of 6 figures. With the previous reveals of Batman, Bane, and Catwoman, that just leaves one figure left to be revealed.
Read the full announcement and check out the pictures of the new figures after the jump!
Batman™ Fans,
Without a doubt, one of the biggest, most highly anticipated films for summer 2012 is The Dark Knight Rises. We revealed the first three characters for our 2012 The Dark Knight Rises Movie Masters® series at New York Toy Fair in February, and the buzz has been amazing! Along with the great sculpts for Batman™, Bane and Catwoman, everyone is talking about the Collect-and-Connect® projecting Batsignal.
Well, now it's time to introduce two more figures in our 2012 line-up: Gotham City Police Department Blake and Alfred!
Hard-as-nails Officer Blake is a brand-new character to the Christopher Nolan trilogy, and we can't wait to bring him to life in our Movie Masters® series. And you know we're beyond stoked about Alfred! Fans (and us!) have been asking for him for years, and he's a big addition to the line.
Of course, new figures as awesome as these deserve new packaging, too. Check out what's in store for our 2012 Movie Masters® line…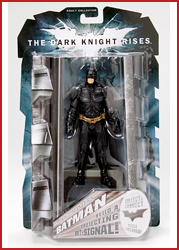 Sweet, right? This packaging is so good, you'll be wondering "Should I open it?" . . . "Should I keep it in package?" . . . "Should I buy two?"  Decisions, decisions!
So who do you think the last figure will be? Lucius Fox? Ra's Al Ghul? Let me know what you guys think.