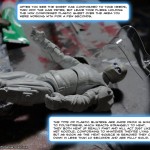 Hey guys, I just wanted to let you know that I have three new guides posted in the Guides and Tutorials section.
The first one is How to Fix a Stuck Waist Joint. I go over the best ways to get your action figure's waist joint moving again. I just got the new Marvel Legends 2012 Piledriver figure and his waist couldn't move! So I decided to fix it and make a tutorial on it.
The second is How to Conform Styrene and Plastic Sheets to Shapes and Action Figures. Here, I teach you how to take a piece of polystyrene and get it to perfectly conform around a part of your figure.
And my last new tutorial is How to Make Custom Decals and Insignias. It's kind of a tough one if you're unfamiliar with Photoshop, or if you don't have it at all, but it's essential if you're making any character that has a patch, or logo, or insignia on his suit, because not even the steadiest of hands can match what a computer can do.
Alright, that's all for now. I just wanted to update everybody on the new guides, and I hope they help you in your customizing endeavors!