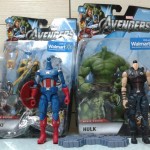 Apparently the Hasbro Marvel Legends movie Avengers figures have leaked, and thanks to xmeteorz of TheFwoosh forums, we have new images of the Walmart exclusive figures!
Most of these were already revealed as prototypes at conventions within the last year, however here we get a peek at a not yet revealed figure: Movie Hulk! That's right, it looks as if Hasbro is making a Hulk figure based on his appearance in the Avengers movie in Marvel Legends style. He looks pretty big in package. They even had to fold his arms and squat his legs just to get him to fit in the package.
Hasbro stated that these figures will be released either before or during the release of the Avengers movie on Blu-ray/DVD. Some of these 6″ figures feature the new style of rocker ankles Hasbro has been implementing, such as the movie Hulk figure. However, Iron Man seems to be a repack from the previous Walmart exclusive Iron Man 2 6″ figure wave. Each figure comes with a display stand.
In addition, images of the cardbacks can be seen, showing the cross-sells!
Continue reading the story and see all 21 new images of the figures after the jump!
*Note: these are leaked figures which are missing their heads. The head shown is from the Toys R Us exclusive Winter Soldier figure from 2010*.
The following are the figures revealed so far in the line:
Marvel Legends Avengers Movie
Iron Man
Captain America
Hawkeye
Hulk
Loki
Thor
The Walmart exclusive movie Thor & Captain America are also shown for comparison