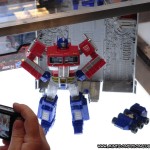 Hasbro revealed today during their toy reveal panel that the Masterpiece-10 Optimus Prime is getting a U.S. release. This version of Optimus Prime has only been previously revealed in Japan, and included his trailer with all the accessories inside that the vintage Optimus Prime did. Not only that, he includes a removable Matrix of Leadership, a removable Energon Axe, and a tiny version of Spike that sits in the driver's seat when Prime is in truck mode.
This version stands at about 10 inches tall, shorter than the 20th Anniversary MP Optimus Prime. However, this version will be more in scale with recent Masterpiece figures like Rodimus and Grimlock. He's coming in a nice window box package, revealing all of his contents.
There was no official word on pricing, but he should be released this Fall.Continue after the jump for lots of hi-def photos of Masterpiece Optimus Prime!
Click on the pictures to see larger versions.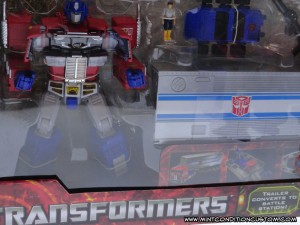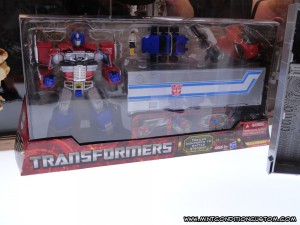 So what do you guys think? Will you be picking this one up? I know I will!