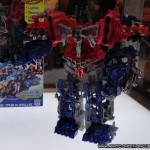 Among the reveals today, Hasbro had some new Transformers Cyberverse sets in a Transformers Prime theme. The new sets include an Energon Driller with character Knockout, the Star Hammer with Wheeljack, and a huge playset called Optimus Maximus. This has two modes, robot and battle station. It appears that when in battle station mode, you can fit the small Transformers vehicles included with the Cyberverse sets in Optimus Maximus, to make the ultimate Cyberverse vehicle.
The Energon Driller and Star Hammer will be available this August and will retail for $19.99
Optimus Maximus will also be released in August and will retail for $34.99
Continue after the jump for lots of hi-defition photos!
Let me know what you guys think in the comments!