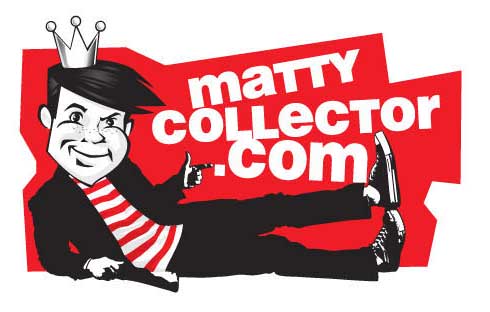 Welcome to another edition of Ask Mattel! In this session, Matty gives a surprisingly long thought out answer regarding the SDCC Death statue, gives us a hint at the SDCC Dark Knight Rises exclusive figure, and more! Let's jump in.
Brandon Gibbs asks: Can you explain why there are no SDCC exclusives in DCUC scale this year and why you instead chose to do a less-articulated 8-inch version of death. As someone who has almost every DCUC figure, I frankly, feel a little insulted that you have nothing for me this year.
Some fans were confused (or Angry) that we didn't do a 6" DCU (Classics) item at SDCC this year. Honestly, a big part of that was that we now have CIE on Mattycollector.com. In the past, we needed SDCC to put out 6" figures (for the "overall collection") that didn't fit into the retail line for one reason or another. Whether this was due to character selection (Lobo) piece count (Plastic Man) or a plus' d up package with light and sounds (Wonder-Twins), in the past SDCC was our avenue to deliver items that really "didn't work at retail for one reason or another".
Now that we have Club Infinite Earths on Mattycollector.com, we can offer all of these executions without having to wait for an annual show. Honestly, fans are in the best position ever for 6". By  supporting the online club (which we know was a "risk" in year 1 with a lot of unknowns at the time we sold the sub) fans are really going to be rewarded. Ideally it will be like getting a DCU 6" SDCC item every month. (no need to toy hunt!)  Metron is a great example. How in the world would we have done that at retail? He would have had to be part of a "deluxe" assortment with a Batman and Superman deluxe figure and would have been short packed with many fans unable to find him. He would have been better off at SDCC to do the full chair.
BUT now that we have CIE we can just include him (and other collector only figures) without retail restrains or having to wait for SDCC. With the online club the gloves are off and you will really see some great collector product (pending the sub goes forward in 2013, which I can't imagine it won't!).
Because we now have CIE delivering SDCC quality 6″ figures every month, we decided to use SDCC therefore to try out new form factors for fans to collect the DC Universe. This was not a slight to fans at all. you are still getting SDCC quality 6″ figures, and thanks to CIE you will get them every month instead of only once a year!
Victor asks: How about if the MOTUC line include a series of pink variants (and other figures), and proceeds could be donated to Breast Cancer Research? Such variants could include Filmation colors Prince Adam, pink minicomics Sorceress and Teela, and pink SwiftWind.
A very cool idea but nothing like this is planned right now.
Gannon Gilmore asks: Why was the Dana/Zuul figure taken out of the Mattycollector site lineup for SDCC? Why make it harder for Ghostbusters fans to complete their collections?
While we are huge GB fans, we did not have enough customers to keep the 2012 GB 6″ line going after the 2012 sub did not sell the min number of units. So we needed to move Dana to a SDCC spot. We can only produce toys when there is an audience and after the main 4 GB boys from movie 1, the customer base has been limited for the GB brand.  If GB had sold as well as MOTUC or even DCU CIE we could have done more 6″ this year. But in the end, as stated, we can only produce toys when there is a large enough audience to buy them!
Batfan asks: Any hints what the SDCC Dark Knight Rises exclusive is?
The package will feature lights and sounds.
Well that's it for this round. Join us again on June 1st for the next Ask Mattel session.