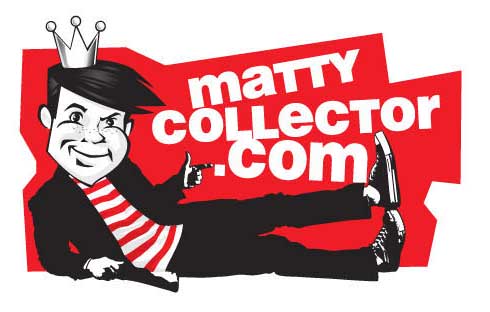 Welcome to the latest edition of Ask Mattel! Let's just jump right in and read the questions you submitted, and the answers given by Mattel's staff.
Dwaine asks: Will there be a pre sale for temple of darkness Sorceress for power con?
 No. We are just brining units to the show to sell.
Jared asks: Can you explain the decision to make the SDCC Death an 8 inch statue, instead of a DCUC 6″ figure? Many fans would love a 6″ Death and Sandman to go with their DCUC collections. Did you only have the license to make her a statue, or was it completely a design choice? And if you do have the license to make figures of these characters, will we ever see them as figures?

Some fans were confused (or Angry) that we didn't do a 6" DCU (Classics) item at SDCC this year. Honestly, a big part of that was that we now have CIE on Mattycollector.com. In the past, we needed SDCC to put out 6" figures (for the "overall collection") that didn't fit into the retail line for one reason or another. Whether this was due to character selection (Lobo) piece count (Plastic Man) or a plus'd up package with light and sounds (Wonder-Twins), in the past SDCC was our avenue to deliver items that really "didn't work at retail for one reason or another".
Now that we have Club Infinite Earths on Mattycollector.com, we can offer all of these executions without having to wait for an annual show. Honestly, fans are in the best position ever for 6". By supporting the online club (which we know was a "risk" in year 1 with a lot of unknowns at the time we sold the sub) fans are really going to be rewarded. Ideally it will be like getting a DCU 6" SDCC item every month. (no need to toy hunt!) Metron is a great example. How in the world would we have done that at retail? He would have had to be part of a "deluxe" assortment with a Batman and Superman deluxe figure and would have been short packed with many fans unable to find him. He would have been better off at SDCC to do the full chair. BUT now that we have CIE we can just include him (and other collector only figures) without retail restrains or having to wait for SDCC. With the online club the gloves are off and you will really see some great collector product (pending the sub goes forward in 2013, which I can't imagine it won't!).
Because we now have CIE delivering SDCC quality 6″ figures every month, we decided to use SDCC therefore to try out new form factors for fans to collect the DC Universe. This was not a slight to fans at all. you are still getting SDCC quality 6″ figures, and thanks to CIE you will get them every month instead of only once a year!
Grayskull asks: When will we hear what the offical price hike on MOTUC figures will be? San Diego Comic Con?
Yes, at our Mattypalooza fan panel.
James asks: Are you planning to have a toy line for the new Beware the Batman cartoon?
Sorry, we aren't ready to comment on anything that far out.
Trevor asks: Just curious if there is an official release date for the Club Infinite Earths Poison Ivy figure yet?
That will be announced at SDCC.