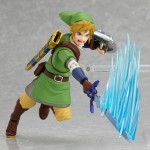 I am one who loves to partake in the occasional video game. And you all know I toys. I also enjoy a board game every now and then. So that's why I put all the topics into today's news post into one, to give you all some information regarding some upcoming game/toy news.
First up in the Action figure/Video game crossover news, we have a Legend of Zelda Link figure coming from the Japanese Figma toy line from Max Factory.
Continue after the jump for pictures of Figma Link, as well as a slew of information regarding all of the topics from the title!
Photos for all the topics featured in this post have been put in a gallery at the very bottom, so keep reading or scroll down to view those.
Here is the press release for the Figma Link action figure:
From the popular action adventure Zelda series' newest addition, 'The Legend of Zelda: Skyward Sword' comes a figma of the main character of the series, Link!

– Using the smooth yet poseable joints of figma, you can act out a variety of different scenes.
– A flexible plastic is used for important areas, allowing proportions to be kept without compromising posability.
– He comes with his standard gallant expression, as well as a powerful shouting face for combat poses.
– The Master Sword as well as the Hylian Shield are both included. They can also be carried on his back as they did in the game.
– A poseable figma stand is included, which allows various poses to be taken.

– Product Name figma Link
– Series The Legend of Zelda: Skyward Sword
– Manufacturer Max Factory
– Category figma
– Price 3800円
– Release Date 2012/10
– Specifications Painted ABS&PVC non-scale posable figure with stand included. Approximately 140mm in height
– Sculptor Max Factory – Masaki Asai
– Planning/Productiion Max Factory
– Released/Distributed by Good Smile Company
– The final product may differ slightly from the photos shown.
Up next we have a rather interesting tale. For people who love to collect different versions of Monopoly, then this one is for you. Paramount and Hasbro have announced the release of a new "Godfather" version of Monopoly. Check out the press release for more info:
It's not personal, it's business as you systematically eliminate your opponents to reign supreme in this classic MONOPOLY game with a Godfather twist. Produced by USAOPOLY, under license from Hasbro and Paramount Licensing, this collector's game celebrates the 40th anniversary of the release of one of the most seminal films of our time.

Reminisce and relive The Godfather story anew as you play America's favorite game with a killer instinct the Don would respect. Expand your family's interests by amassing property and influence as you seek to bankrupt those around you. Buy, sell and trade the likes of Woltz International Pictures, Moe Green's Casino, Joe's Diner and Hyman Roth's Home as you muscle your way to an empire. Make them an offer they can't refuse as you vie for the Corleone Long Island Home and Corleone Lake Tahoe Estate (the prime properties traditionally occupied by Boardwalk and Park Place).

Travel the board with one of six game tokens: the horse head, cannoli, Genco Olive Oil tin, the Don's limo, a dead fish or the tommy gun. Familiar "Chance" and "Community Chest" cards have been replaced with "Friends" and "Enemies" cards and bear in mind that the friendly game of Monopoly is the best place to "keep your friends close, but your enemies closer."

The MONOPOLY game's traditional houses and hotels have been turned into Hideouts and Compounds, and the game features new "Don" cards allowing each player to align with a particular family and employ a potentially lethal strike. The Corleone card, for instance, entitles the bearer to a kidnapping of an opponent while the Tattaglia card affords its owner a single money laundering opportunity. Since there is no consigliere to offer advice, players must take care of their family at all costs.

MONOPOLY The Godfather Collector's edition has just released and fans interested in seeing an unboxing video featuring all the custom components and designs first-hand can visit http://www.youtube.com/watch?v=qyEQ2RfA3-s. The game is available now in specialty stores across North America, including Transworld and amazon.com with a suggested retail price of $39.95
And lastly today, I just wanted to remind everyone that LEGO Batman 2: DC Superheroes comes out next week on the 19th! I'm very excited for this game. Not only is it LEGO Batman, but they're including some other DC heroes in it as well which should be fun, and this is the first LEGO video game to have the characters talk!
Not only that, but if you preorder the game from Gamestop, you get a free exclusive. You get an all new Lex Luthor LEGO mini figure. As far as I can tell, it won't be available anywhere else, so I have to say this is an awesome way to get me to buy the game from Gamestop.
Alright guys, that's it for now. Let me know what you think about everything in the comments!