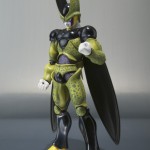 Tamashii Nations has revealed, on their Facebook page, a plethora of official images regarding the upcoming Dragonball Z Figuarts Perfect Cell action figure. We've known for a while that the next figure in the series would be Perfect Cell, as he was the character who won the fan poll last year. We got a teaser image a couple of weeks ago, and now we get to see just everything he comes with!
Continue after the jump for a whole gallery of images showing off Perfect Cell and his accessories.
Gallery at the bottom of this post. From the press release from Tamashii Nations:
S.H. Figuarts Perfect Cell $56.99 Nov/Dec 2012

What happens when the perfect warrior created via ultra-advanced biotechnology joins the perfect action figure series by Tamashii Nations, the best collectable toy company in the world? S.H. Figuarts Perfect Cell! Created specifically for the N. American market via input from past Tamashii Nations Facebook polls, Perfect Cell joins Trunks and Super Saiyan Vegeta in the continuing Dragon Ball line up! Perfect Cell's spotted exoskeleton is perfectly portrayed in this perfectly articulated action figure. In addition to Interchangeable parts for folded arms, hands, and faces, kamehameha effect parts add the perfect ingredients for re-creating the perfect, Perfect Cell battle scene. Outside N. America, Perfect Cell will be a Tamashii Web Exclusive. Be sure to grab S.H. Figuarts Super Saiyan Gohan Special Color Edition ($30) to pair up with Cell, available at San Diego Comic-Con 2012!
Wow! I can't believe how insanely awesome he looks. Look at those accessories! That blast effect and base are just astounding. And his design perfectly hides every bit of articulation which I think is breathtaking. I can't wait to add him to my DBZ Figuarts display. Let me know what you think in the comments!
Just click on each thumbnail to enlarge the photo for your viewing pleasure.