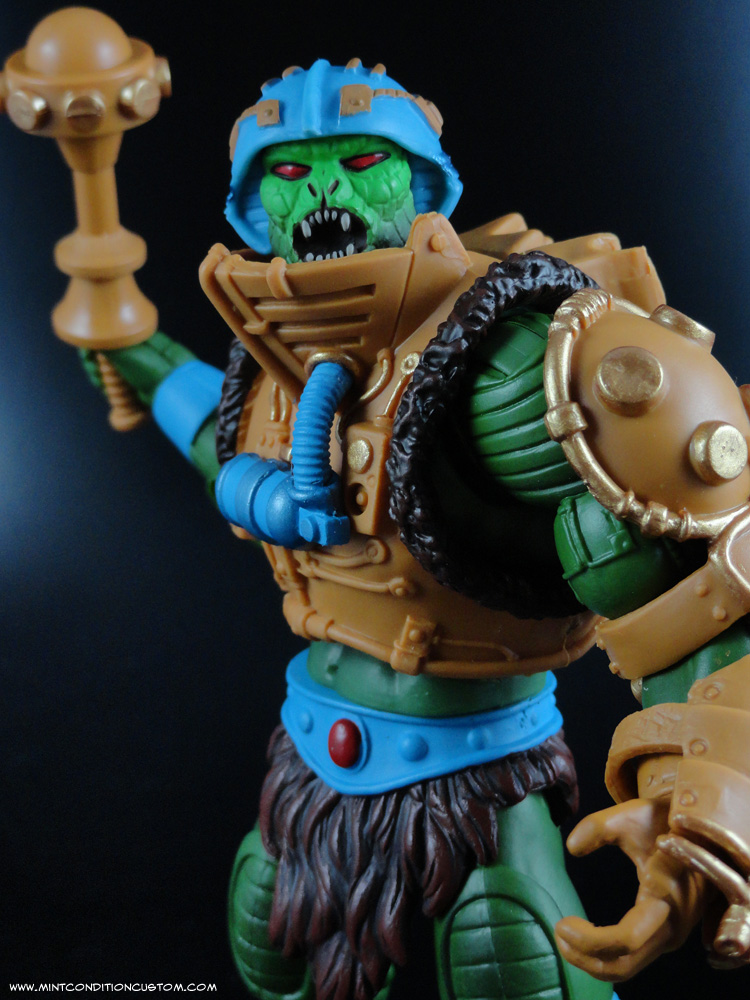 SNAKE MAN-AT-ARMS
Transformed Master of Weapons

REAL NAME: Duncan of the Viper Clan

Duncan heroically served King Randor throughout their battles with Skeletor and the Snake Men as Eternia's chief war strategist and weapons maker. Exposed to the Serpent's Ring, Duncan was magically transformed by King Hssss into a Snake Man permanently. Under this evil spell, he used his genius to create great and horrific machines of war for the Snake Men as they battled for control of eternia. Eventually, Duncan was forced to battle against Clamp Champ who had since replaced hima s Royal Man-At-Arms. In their epic final duel during the Second Ultimate Battleground, Duncan was mortally wounded, but not before momentarily recovering his humanity thanks to a spell cast by his daughter Teela, the new Sorceress of Grayskull.
Welcome to my very first Masters of the Universe Classics review. I hope to get to many more in the future, even past ones (mostly as an excuse to give you guys some pictures to look at). The figure starting off this trend is of course Snake Man-At-Arms. Duncan's tranformation happened in the MYP (Mike Young Productions) 2002 animated series, towards its end. Mattel used this fan requested variant as an excuse to go all out, giving us a true Masters of the Universe Classics 200X Man-At-Arms, down to the armored detailing on his suit, and the muted paint scheme. To sweeten the pot with collectors, they made Snake Man-At-Arms one of the 3 figures this year to include a new mini-comic. Smart move on their part.
Join me after the jump to find out if this is just another variant, or a well deserved figure in the line. And don't forget to scroll all the way down to the bottom for a short photo series by me, showing how Duncan met his unfortunate fate as a Snake Man!
PACKAGING– Anyone familiar with the Masters of the Universe Classics line knows the packaging by now. But since this is my first foray into MOTUC I'll give my two cents.The packaging features some awesome Castle Grayskull brick patterns on the front and the card, and the Masters of the Universe Classics logo at the very top and a Snake Man sticker on the front of the blister. Speaking of the blister, there's an indention directly in the center, an homage to the vintage toys' packaging. The card back features photos of related figures in the line, and a bio of the character as well.

The figure is posed nicely inside, though one thing collectors have noticed from the very beginning of the line is how cramped they seemed. It's been explained that when the line first started, they didn't have very much budget at all for the packaging, so they were trying to be as creative and conservative as possible. And after the budget had been raised for future years, they decided to keep the same style packaging to maintain a continuity for the mint-on-card collectors.

At any rate, I think the packaging works. The only thing I wish about it was that it was collector friendly. In other words, I wish that you could safely open the packages and reseal them without damaging anything. But then again, I'm not a MOC collector at all, so this doesn't really bother me in the least.

SCULPT – Snake Man-At-Arms features the same torso, arm, and leg armor as the original Man-At-Arms figure. The arms and legs are from characters like Roboto and Trap Jaw, to give him the armored detailing that Duncan had on his suit in the MYP cartoon series.

Another difference with this version is his longer loincloth, the "Preternia" style loincloth (meaning the style of loincloth given to MOTUC characters that existed long before the Prince Adam version of He-Man). He also has the newer boots that cover the joint pins and help give tighter ankle articulation. It's a really smart reuse of parts that I think really works. The new head sculpt looks great as well. It's undeniably the helmet worn by Duncan, and the face is definitely a Snake Man. I like his open maw. Very menacing.

PAINT – As mentioned before, The colors on his suit are much more muted from the original Man-At-Arms, due to Mattel trying to be accurate to Duncan's MYP appearance. I honestly think I prefer this color scheme to the original. It really helps that he features some fantastic detailing. On his orange armor, he features a lot of gold detailing that works great against the color of the armor. I can't get over how awesome it looks. It definitely helps the figure pop.

The other parts of his armor, like his helmet and the tank on his torso, have metallic detailing as well. Snake Duncan also features some good air brushing and dry brushing all over his body, especially on his head. From what I could tell, there wasn't any paint slop anywhere. The only even minor complaint I have against it is his right ankle joint disc was cast in green, which becomes very obvious against the brown of his boot.

ARTICULATION – He has a ball jointed neck, ball jointed shoulders, bicep swivels, single elbows, wrist swivel, ab crunch, waist swivel, ball jointed hips, thigh swivels, single knees, and rocker ankles.

All the joints were really tight, certainly much tighter than the original Man-At-Arms figure. I don't suspect this version will fall over on the shelf for no reason. I do wish Mattel would utilize double elbows and knees more, but the overall articulation model works for this line, even without double elbows and knees. I have always loved the way Mattel does their ab crunch though. It works fantastically. You'd be amazed how much or a difference a good ab crunch makes when posing.

ACCESSORIES – Snake Man-At-Arms comes with his mace, the Serpent Ring, and the second of three new mini comics titled "He-Ro Unleashed!".

His mace is of the same muted orange as his armor and features the same gold detailing. The Serpent Ring is painted a very realistic gold and has a great detailed sculpt. The addition of the mini comic definitely raises Snake Duncan's value and I'm very glad Mattel decided to temporarily bring them back for the 30'th anniversary of Masters of the Universe.

All of his orange armor is also removable, and his head pops off nicely as well. Though I don't count those really as accessories, though it's worth mentioning. Fans who still don't own the original version of Man-At-Arms will be disappointed that he doesn't come with a normal Duncan head, nor does he come with the sword and blaster that the original version came with.

FUN – I may be biased, because I've been waiting for a 200X variant of Man-At-Arms for a long time, but I think he's a lot of fun. Though I'm really just going to pop my normal Duncan head on this body and use him as my default Man-At-Arms on my toy shelf. I've always thought Man-At-Arms was one of the cooler MOTU characters due to his uniquely visual appearance. And with this version, we have the awesome metallic detailing that really draws your eye to the figure.

OVERALL – I'd say that anyone who doesn't have an original Man-At-Arms in their collection can probably do without this one. By itself it won't sit in for Duncan on your toy shelf, but if you already have the original version and want a MOTUC 200X version of Man-At-Arms, then I'd definitely recommend getting him.

He's got a great color scheme, great articulation, and a great sculpt. The inclusion of the Serpent Ring was a nice touch, and looks very cool in King Hssss's hands. And for the vintage enthusiasts, you have a mini-comic! The only real downside to me is that off color ankle joint disc, and the lack of actual accessories is felt.

FINAL SCORE: 4 / 5


Where to buy: Unfortunately it was only available on Mattycollector and is currently sold out. However, you can try the following, but you will have to pay secondary market prices.

Amazon, as of this writing, only has 5 left in stock.









Now as promised, here is the short photo series showing how Duncan met his unfortunate fate as a Snake Man. Just remember to click on the first thumbnail to enlarge, and hit the right arrow to view the next picture.