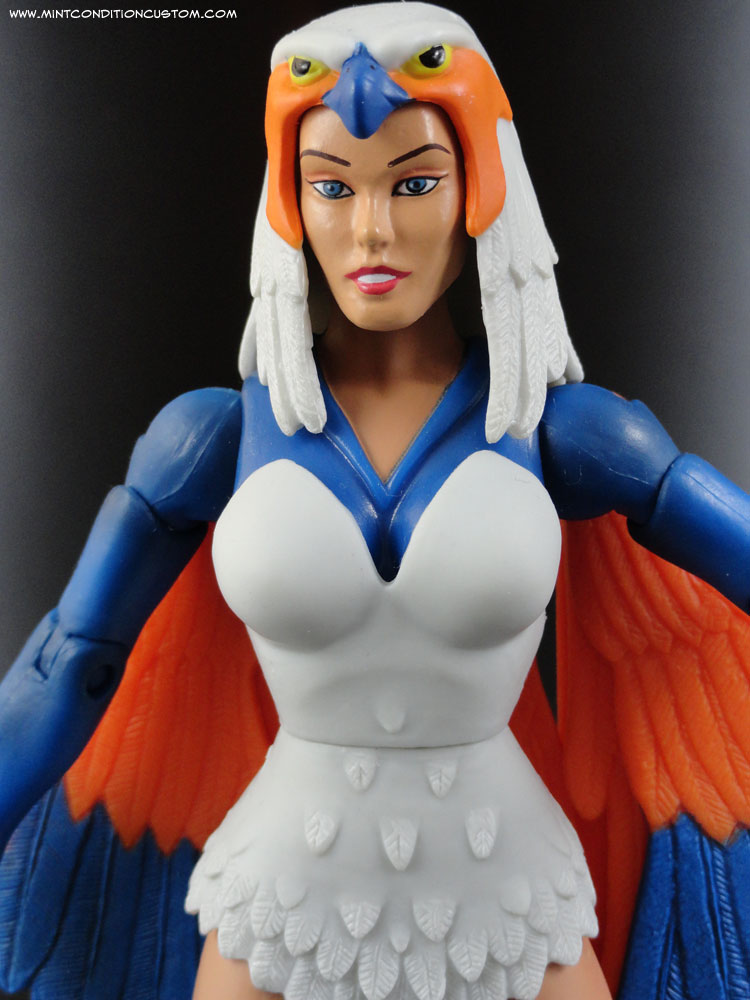 SORCERESS
Heroic Guardian of Castle Grayskull™

REAL NAME: Teela'na

Growing up in a small Eternian village, Teela'na helped defend her people from a Horde Scout ship that had discovered her planet on a magic locating mission. Recognized for her loyalty, courage and wisdom, the current aging Sorceress® chose Teela'na to take up her title and defend Castle Grayskull's secrets for the next generation. During her reign as Sorceress®, Teela'na not only cast the spell to clone the Sword of He, she was also cloned herself by Skeletor® who desired a magic-wielding bride to pass on his legacy. With the help of Man-At-Arms®, Teela'na saved the cloned child. And it was through her undying love and devotion to this baby girl that Teela'na gave her up to Man-At-Arms®, awaiting the day when her daughter would become the new Sorceress® and Guardian of Castle Grayskull's secrets.
The Sorceress is arguably one of the most important characters in Masters of the Universe history. As her bio states, she is the guardian to Castle Grayskull. She was featured in just about every episode of the cartoon, and had a huge role in the MYP 2002 series as well. Fans have been waiting a long time for her, and now that she's here has she been worth the wait? Keep reading to find out!
PACKAGING– The Sorceress comes in the standard Masters of the Universe Classics packaging. The MOTUC logo is nicely displayed up top, with the character name at the bottom. The figure is clearly seen inside the packaging. The back features pictures of other figures in the line, as well as a bio for the Sorceress.There's really not much left for me to say about this packaging. I like it, especially considering the type of budget the MOTUC team had at the beginning of the line.

SCULPT – Sorceress has a lot of new parts on her. Her head, shoulders, the wings, her torso, and the calves are all brand new, and greatly sculpted. She has feather detail sculpted into her skirt, that nicely fades away the higher up the torso you go. Her boot cuffs also have feather detail sculpted all around.

Her head looks beautiful. I was worried how they would pull off the vintage Sorceress' head without making it look cheesy, but they did fantastic. She has a resemblance to Tee-La (which makes sense, seeing as Teela's her clone), and her headdress looks great without looking silly, I think.

Her wings are very intricately detailed with each individual feather being realistically sculpted. Mattel and the Horsemen really didn't hold back with Sorceress.

PAINT – As far as I could tell, there was no paint slop or messy edges. Everything looked fine on mine. I really love the color scheme too. She's painted in blue, white, and orange.

A lot of fans didn't like how her wing tips were blue on the inside, since the vintage figure only had blue wing tips on the outside, but I actually prefer this. It breaks up the orange, and it makes sense, because feathers wouldn't ever be one solid color on one side, and a different color on the other side. Her face is well done too. The eye tampos were perfectly placed, and the mouth and eyebrows look great too.

ARTICULATION – Sorceress has a ball jointed neck, ball jointed shoulders, bicep swivels, single elbows, wrist swivels, a waist swivel, ball jointed hips, single knees, calf rotators at the boot cuff, and pivot-rocker ankles.

Every joint works fine, though her head movement is limited due to her headdress getting in the way. You can still turn her head, but maybe about 15 degrees left or right. I didn't feel comfortable trying to make my figures' head go any further. She's on the newer MOTUC female buck, which is why she has a waist swivel. It really adds to the posability.

The other piece of articulation she has is in her wings. On either shoulder, she has a big plug sticking out of the back. Her wings are broken up into three sections on either side, with one other stationary piece in the middle of her back, to help complete the illusion. The wing sections on her shoulders are all on a big loose hinge, with little stopping points throughout. As you lift Sorceress' arms up, her wing sections lift up too. Each section hits their stopping point, prompting the next section to start lifting. So as you lift her arms, her wings automatically go with them, and they easily fold back as you lift her arms down.

I really like how this was done, because I think it's a cool "action feature" on Mattel's part. Of course those incredibly unattractive hinges sticking out of the back of her shoulder aren't doing the figure any favors. That, and because they're attached to her shoulders, it doesn't limit the range of motion in her arms. You can't lift her arms out very well without the wings getting in the way and looking really bad. I feel it was a great attempt on Mattel's part, but I can't help feeling they could have thought of a way to make the wings fold up and down without sacrificing any range of motion.

ACCESSORIES – Sorceress comes with a few accessories. She has her magical staff, Zoar the eagle, a battle harness for Zoar, and a perch for Zoar as well. The staff looks nice, as its done completely in a pearlescent white, and has a nicely sculpted head.

Zoar is the exact same sculpt we've seen lots of times in the line already. The only difference is this time he's painted blue, white, and orange to match Sorceress' paint scheme. Zoar is supposed to be the Sorcerress transformed, so it makes sense. There's a nice gradation on the wings where the orange goes to yellow, that I especially like. The battle harness and perch are just cast in red, and the harness easily pops off of Zoar's back.

FUN – I actually think Sorceress is a lot of fun. She's visually interesting for one thing. Her look definitely catches your eye. The wing feature also ups the fun factor, since it's something of an action feature, and is fun to mess with and really does look good when you're lifting her arms up. The biggest reason she's so fun though, is because she's supposed to be the guardian to Castle Grayskull! Knowing that makes her fun, and a very important character.

OVERALL – Her sculpt was done wonderfully, as well as her paint job. While she has good articulation, hear head movement is hindered by her headdress, and her arm movement is hindered by the wings stuck in the back of her shoulders. So realistically, there's just not too many posing options with her. She does come with a nice array of character appropriate accessories, and is quite fun to play with and pose with the other Masters of the Universe Classics figures. I'd also consider her an essential part to any MOTUC collection, despite the flaws, due to her important nature as a character. Still, part of me wonders if we'll see a "Sorceress 2.0" in the future with a better wing feature that doesn't hinder movement.

FINAL SCORE: 4 / 5

Where to buy: Unfortunately it was only available on Mattycollector and is currently sold out. However, you can try the following, but you will have to pay secondary market prices.


Amazon has her in stock from a few retailers.
Here are a couple of extra photos that didn't make it in the review.