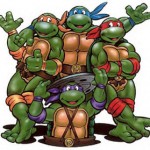 You read right. According to the websiteHoth Bricks, LEGO will be releasing Lego Teenage Mutant Ninja Turles in 2013! Thanks to ToyArk, the first paragraph in the article has been translated, from the original French, using Google Translate:
A reliable, highly reliable even tells me that LEGO will actually offer products licensed TMNT (Teenage Mutant Ninja Turtles) with an official launch date announced for January 2013.
Rumors of this happening have been going on for a little while, and if the January 2013 release date is true, then we should hopefully be seeing images soon (New York Comic-Con?). There's no telling just what direction LEGO will go with the sets, though it's highly expected that everything will be based off the new cartoon series. However, it's just as possible that LEGO will try to go with a timeless feel for the sets, as they often do, and bring out sets that could be from any TMNT era (it's hard to pinpoint an art style with LEGO bricks). Do you think we could see a LEGO Party Van set? Sewer Lair? the Technodrome? Or do you think the sets will only focus on the new series?
At any rate, what do you think? Do you plan to pick them up? I know I will!