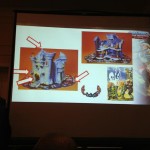 Today at Power-Con, the Masters of the Universe convention, Mattel made an announcement during their panel about releasing a new Castle Grayskull playset for Masters of the Universe Classics. It will be based on Mark Taylor's original design (the vintage Castle Grayskull) and cost approximately $200. Mattel will be taking pre-Orders for it in the Fall on MattyCollector.com. A minimum number of pre-orders will be needed to for them to be able to actually go through with releasing it. As it stands right now, they had no resources to produce a 2 UP or prototype. It will just be the front of the castle (a facade) and include the moat as well. The preorder system will have to be based on the promise of there being a Castle Grayskull. This is something brand new and was just approved by management. More details to be revealed at New York Comic-Con next month. Castle Grayskull will not have electronics so they will be able to ship it Internationally as well.
There were also some new figures announced, thanks to an email going out to all MOTUC subscribers. Snake-Face, Karatti (from the New Adventures of He-Man) and Octavia (from the Princess of Power cartoon). There will also be a Masters of the Universe Art show coming to Toy Tokyo in New York City this October. There will be art on display and sale, and the proceeds will go to benefit the Ronald McDonald house.
Huge thanks to Pixel Dan for reporting this, and thanks to He-Man.org for the scoop as well. Make sure to continue after the jump to check out all the images regarding the announcements.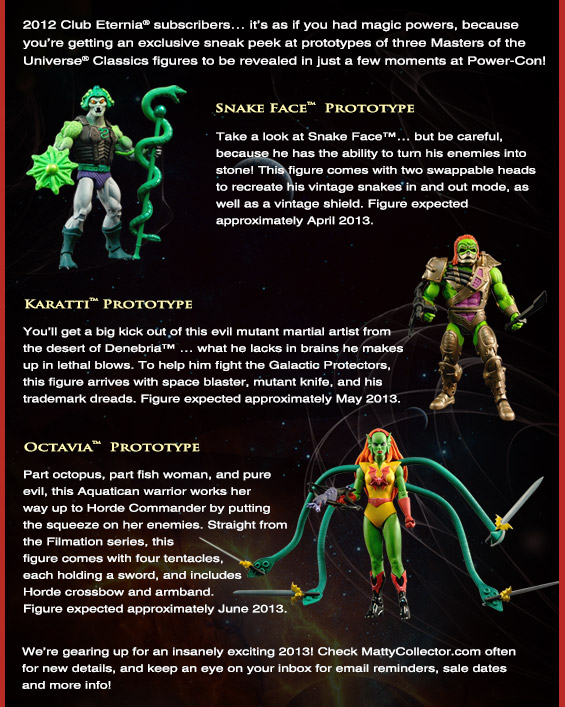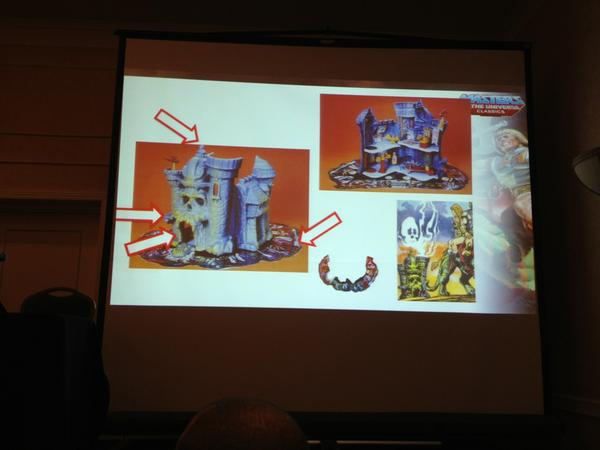 And be sure to check out the rest of the images in the gallery below. Just click on each thumbnail to enlarge.
Wow!!! Talk about big news! The day Masters of the Universe Classics fans have been waiting for is finally going to happen! Will you be preordering Castle Grayskull? I know I will. Let me know what you think!