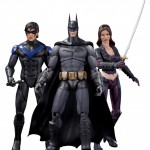 It was announced yesterday that DC Collectibles would be showcasing a lot of new product this weekend at New York Comic-Con. Amongst everything was Arkham City series 4, revealing Nightwing, Talia Al Ghul, and a brand new Batman figure (that's right, not the same one they've been using since wave 1 of Arkham Asylum) with a very wide range of articulation, something DC Collectibles is not known for.
Continue after the jump for the full photo.
Hopefully we'll be seeing lots more Arkham City related figures from them this weekend. Perhaps they'll finally reveal a deluxe Solomon Grundy figure?