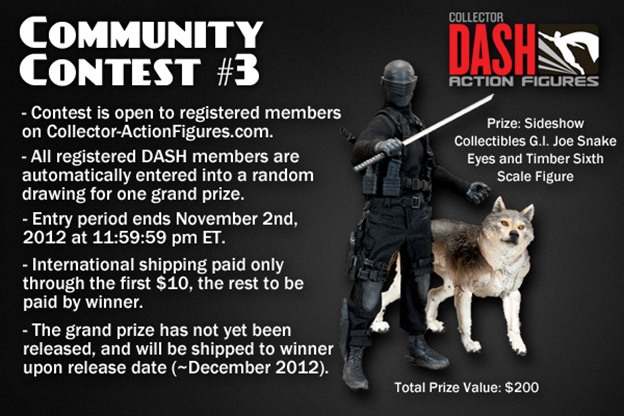 Please welcome Mint Condition Customs' newest sponsor, Collector-ActionFigures.com, also known as DASH. Their website allows you to track your collection, communicate with other collectors, list your wants and offer your own items for sale or trade. They're still growing (i.e., not every action figure is in the database yet, but they're already quite comprehensive), and every new user can help add to its database of figures. One of the most attractive features about DASH is the want/sell option. This feature sounds like it's a dream come true for collectors. For years, collectors have been forced to deal with eBay and high eBay fees, but if DASH can get a lot of users, then this could seriously become a good alternative to eBay for those just wanting to deal with strictly collectors and who just want to sell and trade their figures.
There's more information and the complete contest details after the jump.

Welcome to DASH, Here's a Sideshow Snake Eyes Giveaway
In case you haven't heard of Collector-ActionFigures.com, we wanted to make a strong first impression. In fact,
we're giving away a Sideshow Collectibles Snake Eyes and Timber sixth scale figure to make sure
you remember us. This exclusive figure is limited to 1000 copies, is valued at $200, includes a bundle of
extras including a fully-articulated Timber figure, and is being given away to one lucky collector for free
by Collector-ActionFigures.
For your chance to win Snake Eyes, all you need to do is complete a free membership registration with
Collector-ActionFigures. It doesn't cost a dime and only takes a minute, but make sure you go
through the entire process (including email activation) to set up your account. Not only will you then
be entered to win the contest, you'll also have access to the internet's best catalog of action figures.
There's simply no better way to start off a digital collection on DASH than by entering a classic figure
like this near-perfect G.I. Joe action figure into your collection.
Enjoy your new membership, and good luck winning this unbelievable masterpiece of a prize.
Contest Details
All entries must be received by 11:59p.m. ET on Friday November 2nd, 2012.
One grand prize winner will be selected at random.
For an international winner, the first $10 will be paid for shipping, and the rest will be paid
by the contestant.
The figure has not yet been released, but will be shipped to winner upon release date
(~December 2012).
For complete contest rules and requirements, please email corey@Collector-
ActionFigures.com