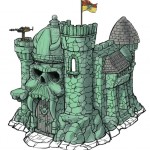 If you haven't already heard, Mattel is trying to get a Masters of the Universe scale Caslte Grayskull made! This is a huge undertaking, and seriously surprising that Mattel could even attempt it. In order to even try to get it made, Mattel needs a minimum amount of preorders. And they don't have the budget to mock up a prototype beforehand. The only thing fans have to go on are a series of blueprints showing off the scale, dimensions, and play features the castle will have. The only other caveat really, is the price. It's going to cost $250 + shipping and tax. That is definitely not a small amount of money. This is going to be a very small production run though, just like everything else MOTUC related. And the castle really is going to be huge, so it seems that the cost could be justifiable. At least to me, the price becomes even more justifiable when you consider that Hasbro is re-releasing the deluxe Millennium Falcon from a few years back, this time in vintage style packaging, and it's going to be sold for $250. And it's a mass retail release.
At first you may be wary to preorder something that isn't even made yet, but the best part of this preorder is that you put no money down. The preorder charges your card for exactly $0.00 and when (not if) the Castle goes through, absolutely no money will leave your account until the estimated release date of December 2013. You could put away $25 a month and by this time next year you'll have more than enough to buy it. If this sounds like something you even want a little bit, I'd recommend going over to Mattycollector.com and preordering it.
Still not convinced? Continue after the jump for the full sized blueprints, a video of a foam mockup showing the scale of the castle, a message from the Four Horsemen, and a ton more detail regarding the castle, to get all the information you need to make an informed decision.

Ok first of all, let's make sure you know what you're getting. Below are the blueprints for the proposed Castle Grayskull. Click on each one to view it in full size. You can see it from every angle and know all of the dimensions.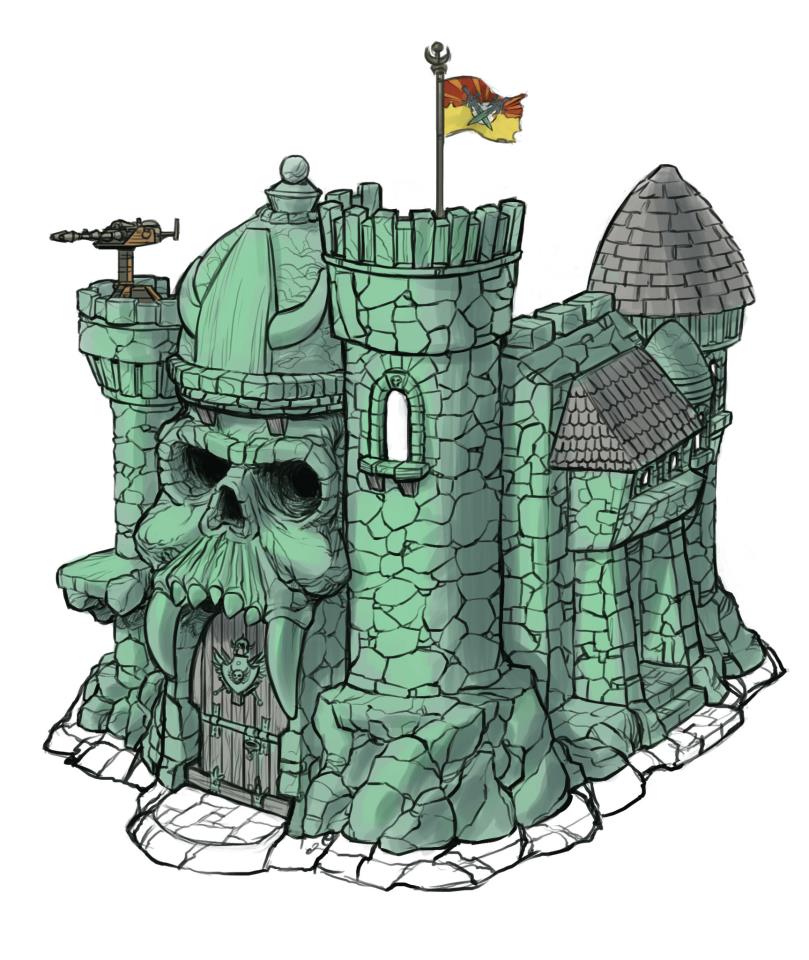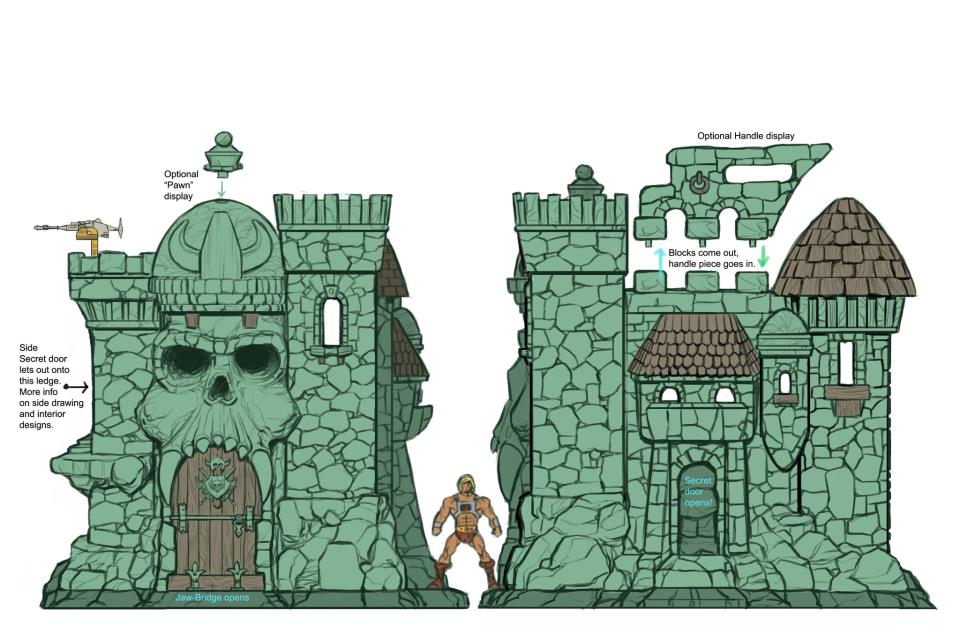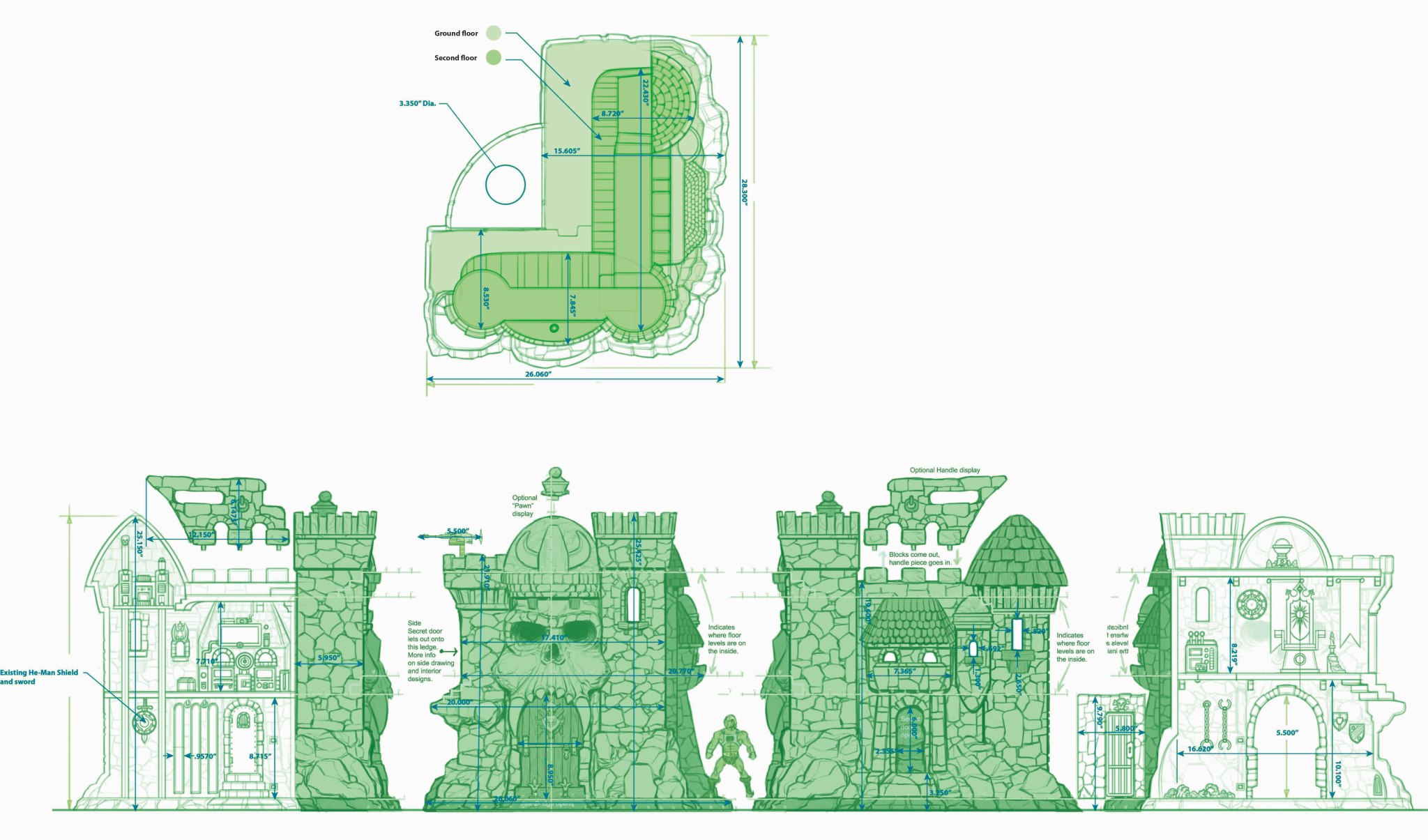 And in case that wasn't enough, here are the features Castle Grayskull will have. Please note that the final playset could have more features added. The Mattycollector website says that "features may be added or removed from the proposed design", but Scott Neitlich has been adamant to say that absolutely nothing from the blueprints will be removed. There will only possibly be features added.
Pre-order Starts: October 16, 2012 9 a.m. PT
Minimum Production Goal: November 12, 2012 11:59 p.m. PT
If Goal Reached, Pre-order Ends: January 3, 2013 11:59 p.m. PT

Product Features

It's Castle Grayskull®!
Ideally, the set will include everything shown in the "B sheet" product drawings to the left, but please remember these are working drawings and aren't final yet.
If produced, this will be the largest, most ambitious MOTUC item ever made – the dimensions are expected to be somewhere around 25"h x 26"w x 28"d (subject to change).
The overall sculpt will be based on the original 1981 prototype, with the addition of an extra battle ledge, elongated jaw/face, a removable minaret on top of the dome and more!
Just like the vintage toy, it will be a two-sided foldout but there will be three levels to show off your MOTUC figures (in scale with most of our 6.5" figures). The vintage set only had two levels, but we've added another across the top for maximum display options.
Two secret doors – the first, a traditional door that opens out the back, and the second one, a secret brick wall that exits to the outside ledge.
Trap door leading to the dungeon (of course) that has an opening door, plus "locks" and chains to hold one figure.
Throne fits most 6.5" MOTUC figures – who will rule your Castle Grayskull®?
Bat wing jet pack and training device were both cut from the vintage prototype and finally get a chance at production!
Working elevator like the '81 prototype had, but we've added back the red skull on top that was cut. The elevator goes to all three levels, not just two levels like vintage toy.
Real opening Jawbridge just like you remember, only cooler!
Have Wind Raider? The playset will include an attachment so you can be ready for air-battle at a moment's notice (and create a complete diorama).
Secret Orb room is hidden inside the dome.
Removable ladder to the roof leads to a blaster and the flag of Castle Grayskull®.
Carrying handle is optional for easy transport or clean display.
Did we mention… it's Castle Grayskull®!
Still not enough? Well, here's a video done by Scott Neitlich, showing off a foam mockup of the proposed castle next to the vintage Castle Grayskull. You can really get a sense of how huge this is going to be:
And if that wasn't enough, here's a message from the Four Horsemen to the fans about preordering Castle Grayskull. You can read the message in its entirety by following that link to He-Man.org. A couple of snippets from it, that I found particularly interesting are:
Plus, we're going to include all of the features and fun details of the original, and try squeeze in as much cool new stuff as we possibly can as well.
And…
…if we get to create Castle Grayskull for you, we're going to put every ounce of heart, soul and creativity into it that we can to try to make it worth every hard earned penny that you're going to be spending on it.
I gotta say, that's really encouraging. We all know how much the Four Horsemen love this line and how much they put into it, so I don't think anybody is doubting that they will do anything less than 400% on producing this playset.
So if you're a Masters of the Universe fan and have been wanting a Castle Grayskull for your Classics collection as badly as many other fans have, and if you have the ability to save the money for over the next year, I recommend preordering it. If you wait, and it does go through, but you didn't preorder it, Mattel will have some for sale next year on their website, but the price will be much higher. Meaning if you want the castle at all, don't wait. It will never be cheaper than the $250 required for the preorder. Also keep in mind that the absolute minimum has to be reached by November 12, and if it isn't then the preorders will be cancelled. If it is, then the preorder period will stay open until January 3rd of 2013. So again, don't wait. I've seen a lot of people say they had to wait until they got paid, despite being told over and over again that there's absolutely $0.00 to put down. So again, if you want it, then don't wait.
And for all the updated coverage on Castle Grayskull, head on over to CastleGrayskull.info, which is being run by NoisyDvL5 of ItsAllTrue.net. There he's got all the blueprints, videos, thermometer updates, and everything else you'd need to know regarding the Masters of the Universe Classics Castle Grayskull.
Let's make this happen, guys. This time, we have the power!