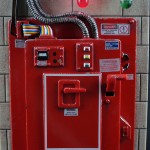 Hey guys! Just wanted to let you know about my latest custom. It's the Ghostbusters Ecto Containment Unit. I took the one that originally came packaged with Mattel's Walter Peck action figure, and really went to work on it. The whole thing has been repainted to give it realistic weathering. Then I used up a lot of resources, particularly on GBFans.com and found reference for all the decals that the Containment Unit had in the movie. I went into Photoshop and made HD versions of all of them, printed them on decal paper, and applied them all over the Containment Unit, even on the Ghost Trap enclosure.
I also installed lights and sounds inside the body. I got really lucky there, since the inside is hollow. Both the red and green lights turn on with the flick of the corresponding switch on the back. There's also a button, and when you press it it plays the "shutdown" noise from the scene where Walter Peck was the Containment Unit turned off unsafely and causes it to explode.
Because the sound has to be run by a 9V battery, I fashioned a housing for it that fits right on the back and I painted it up and added decals to make it look like an old worn electrical box, to help it blend in with everything else. The lights are powered by a CR2032 battery that you can access on the bottom.
Be sure to click here or on the photo below to check out the full set of photos. You can also see the Containment Unit in action by watching the video below as well.
And if this is something you'd like to own, it's currently for auction on eBay with just a starting bid of $1.00! Thanks for looking.