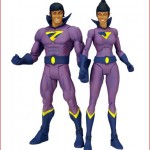 Hey guys, heads up. Anyone who needs a DCUC Wonder Twins set, and only wants to pay $45 for it better click here. BigBadToyStore has a "Mattel Collector Warehouse Find" pre-order for them, set to arrive this month. I just found this and I couldn't whip my credit card out fast enough. I've been wanting these for a long while now, so pre-order while you can, because "warehouse find" does not scream "large quantity" to me.
Back in 2009, this was released as a San Diego Comic-Con exclusive. Right now on eBay this set goes for well over $100, which makes this $45 pre-order all the more exciting. Please note that this is not the version of the set that includes their monkey Gleek, whom you could only get as a special extra item for buying the set in person at Comic-Con.
I hope this helps out all of those out there who need this set, but just can't afford the astronomical prices it reaches on eBay.