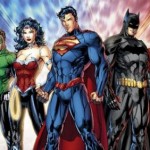 Well Mattel didn't officially announce it per se, but BigBadToyStore just put up pre-orders for all the figures in DC Unlimited series 3. There's no pictures yet, but the figures for series 3 are:
Aquaman (New 52)
Darkseid (New 52)
Superman (Injustice Video Game)
The Joker (Injustice Video Game)
Keep checking back here for updates as official photos come in. In the meantime, you can pre-order all of series 3 right now at BigBadToyStore.