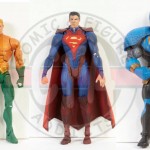 Last week I announced here that thanks to BigBadToyStore, we found what figures would be in series 03 of Mattel's DC Unlimited toy line. For a recap, here are the characters appearing in series 03:
Aquaman (New 52)
Darkseid (New 52)
Superman (Injustice Video Game)
The Joker (Injustice Video Game)
Well now, thanks to Comic & Figure Addicts, we now have images of prototypes for three of the figures: Aquaman, Superman, and Darkseid. For some reason there are no pictures of what the Injustice Joker figure will look like, but stay tuned here for any updates on that. As of right now, DC Unlimited wave 03 is set to be released in the second quarter of 2013. Continue after the jump for the hi-res images. Images courtesy of Toy News International.