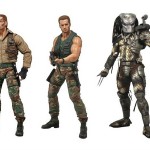 This is the wave that includes the classic Predator from the first movie, as well as two figures of the main protagonist Dutch. This is a very exciting wave, considering this is the first one with any of the human characters from any of the movies, and this marks the first time NECA has made the classic Predator. Here are the official names for each figure in the wave:
Jungle Extraction Dutch Schaefer
Jungle Patrol Dutch Schaefer
Masked Jungle Hunter Predator
These are currently up for pre-order on BigBadToyStore and are set to be released in February of 2013. Continue after the jump for the full image.