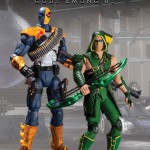 DC Collectibles is delving into the 3 3/4″ action figure market once again with figures based on the upcoming video game Injustice: Gods Among Us. So far there are two sets announced, each one coming with two figures. The first, which you can see pictures of after the jump, is Green Arrow and Deathstroke. The second set announced will be Wonder Woman and Solomon Grundy.
Just like with their 3 3/4″ Green Lantern line that was released solely as convention exclusives, these will be packed with articulation and character appropriate accessories. Unlike the Green Lantern line, these are believed to be released in comic and specialty shops. It's also possible you might see these pop up at Game Stop and other video game stores, but that's unconfirmed as of now.
They're set to be released in April of 2013, to coincide with the release of the video game, and will retail for $29.95 per set.