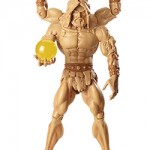 I just got word today that both the Masters of the Universe Classics Procustus and Granamyr figures are delayed. Both are set to go on sale this month, December 17th. They will still be on sale, but they will not ship until they've arrived in the warehouse. We already got some word that Gramanyr was delayed, but Procrustus being delayed was quite surprising. Anything ordered with Granamyr and Procrustus will also be delayed, so everything can ship at the same time.
Here's the text in full from Mattycollector:
Dear Club Eternia® Subscriber,

We wanted to let you know we've just heard our shipment of Procrustus™ figures has been delayed. We'll receive him in waves and will ship out subscription orders as supplies are received. If you have multiple subscriptions that are combined, your orders will be held until Procrustus™ arrives. We're hopeful the delay won't be too long, but plan on an approximate 1 to 3 week delay just to be safe.

Although he's not a subscription item, we also wanted you to know that Granamyr™ is delayed as well. If you order him during our regular sale on Monday, December 17th at MattyCollector.com, any additional products you order at the same time will be held until Granamyr™ arrives. Please order Granamyr separately if you don't want your order held.
This is sure to frustrate many fans, especially Club Eternia subscribers who have no choice to but to receive everything at the same time. Granamyr isn't a subscription figure, but Procrustus is, so anything with a subscription will have their entire order on hold until he arrives.