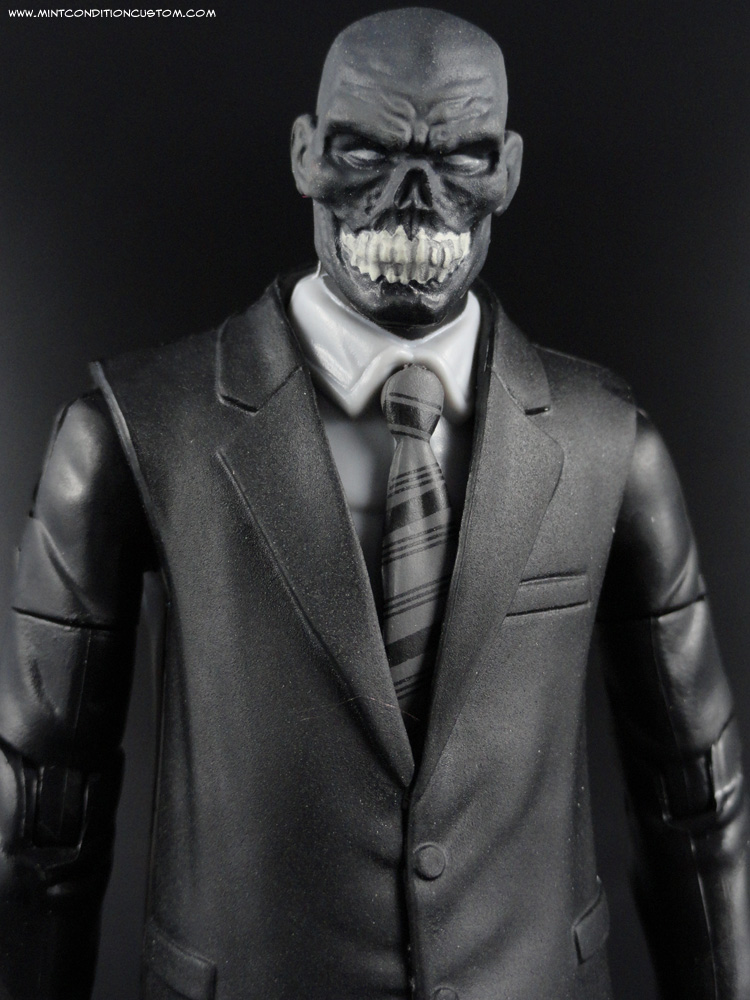 One of the surprises from the DC Signature Collection online subscription is the inclusion of the classic Batman villain Black Mask. Before signing up, we knew we were getting Poison Ivy, but we had no idea we'd be getting another Batman Rogue in the first year, let alone Black Mask. The reaction to him was definitely somewhat split. Many fans loved the way he looked, while others were disappointed that we weren't getting the original look for Black Mask in figure form. While it certainly would have been cool to get an alternate head for him of his original look, complete with the fedora and Tommy gun, I'm actually happy with the version they decided on. It's definitely more well known and has gotten more exposure as the look for Black Mask, so it's easy to see why they picked it. So now that he's been released, join me as I take a closer look at the DC Signature Collection Black Mask action figure.
PACKAGING – The packaging for the DC Universe Signature Collection is a rectangular box. A very simple design, especially when compared to the type of packing we got in DC Universe Classics.

I actually like the smaller, simpler package, since it no doubt makes it easier and cheaper to ship, and there isn't a waste of resources in making it. We get the DC Universe Signature Collection logo at the top, with Black Mask's name at the bottom. Black Mask is displayed in the package so you can see him completely, with all of his accessories clearly displayed as well.

The back of the package has a great looking painting of Black Mask by Mike Thompson and a bio for him as well. I really love how he was able to take a character in a suit and really make it dynamic and one of my favorites so far.

The best part of the packaging is that it's collector friendly. Just cut a strip of tape, and it opens right up, allowing you to take the figure out to play with. Then, you can put it all back in the box, and it closes back up and looks like it had never even been opened.

SCULPT – Much of Black Mask's sculpt is reused, with a few new pieces as well. The arms, legs, and torso are reused from Sandman and The Question. The tie is likely from one of them as well. The hands are brand new. We've had a few gloved handed figures before, but this one has the three lines on the back of the glove. Very classy touch for a guy like Mr. Sionis.

The coat is also a brand new piece, and looks fantastic on the body. The head is also new, of course. It represents perfectly what Black Mask looks like in the comics. It looks like charred skin, burned down almost completely to the skull, which is what it's supposed to be. His exposed teeth look excellent, and I absolutely love the deep wrinkles on his face and in his eye sockets.

There's a lot of depth in this head sculpt, which is what you would expect from the Four Horsemen, so it's not surprising. The only complaint I have about it is that he seems to come from Carnival folk, because his hands seem too small for the body.

PAINT – Most of Black Mask is cast in a black colored plastic (surprise surprise) and looks appropriate for the character. His tie is gray with black stripes on it, definitely better than straight black. His shirt and gloves are a light gray, and his head is painted in a charcoal black. Again, very appropriate considering it's supposed to be his charred skin.

There's some great subtle dry-brushing here to help bring out the sculpt, and his eyes are painted completely white. His teeth are white as well with a gray wash applied over it. There is some bleeding of the white onto the gums and a tiny bit onto his head in some areas around the teeth. It doesn't ruin the figure, but it is noticeable and worth mentioning.

ARTICULATION – Black Mask has a ball jointed head, ball jointed shoulders, bicep swivels, single elbows, wrist rotators, ab crunch, waist swivel, t-hinged hips, thigh rotators, single knees, and ankle hinges.

It's the standard DCUC articulation and everything works just fine. All the joints are tight and hold any pose you can get him in. His coat is pliable enough that the ab crunch still works, though it will be hindered some. For a guy in a suit, he has enough articulation to get him to do whatever you need him to for your display.

ACCESSORIES – Black Mask comes with three accessories. One is a knife, the other is some weird, giant, double bladed knife, and the third is Batman's cowl.

The cowl and knife come from the cover of Batman #636. Of course they colored the cowl blue instead of black, probably because somebody in design decided there was too much black in the set, but it is a nice, albeit kinda pointless, accessory. The figure can't hold it, and even though there's a notch sculpted into the back of the cowl that looks like the knife could fit in, it can't. Like, at all. Much less be able to stick the knife through it. So ultimately, I'm not sure why it was included over the aforementioned alternate head idea.

The double bladed knife, while from the comics, is just very strange. Black Mask definitely loves to use knives, so he must have all sorts of one-of-a-kind bladed weapons. It's cool to have more than one weapon, but I think I'll just be displaying him with the classic knife. It seems more his style.

FUN – For basically just being a guy in a suit, he's a lot of fun. He's visually interesting and I do love the juxtaposition of his face looking like something out of a monster movie, and him wearing such a classy suit. He may look like a monster, but he still has his sense of style, and wants everybody to know that Roman Sionis is in charge.

It's always fun to get an addition to Batman's Rogues Gallery, and his articulation definitely adds to the fun factor, but other than that, your results may vary.

QUALITY CONTROL/THINGS TO WATCH OUT FOR – Nothing to watch out for, or any QC issues. Black Mask is a solid figure.

OVERALL – This is an all around great action figure. He's solidly built, his sculpt is a near perfect marriage of old and new parts (the small hands are the only problem I have with the sculpt), he has a great paint scheme, and lots of articulation.

There is the minor paint bleeding on his teeth, and the Batman cowl accessory, while cool to have, (because why not?), is ultimately pointless. At the end of the day, it's awesome to have this guy join the rest of Batman's villains. We no doubt would have never gotten him at retail, since his appearance is so gruesome, which is why he was a perfect choice for the online subscription. Despite the few nitpicks, if you're a Batman fan, then I still recommend getting him to add to your collection.

FINAL SCORE: 3 / 5

Where to buy: He was originally sold on Mattycollector, and is now sold out there. He is available at the following online stores though.



Be sure to check out these extra photos below that couldn't fit in the review.