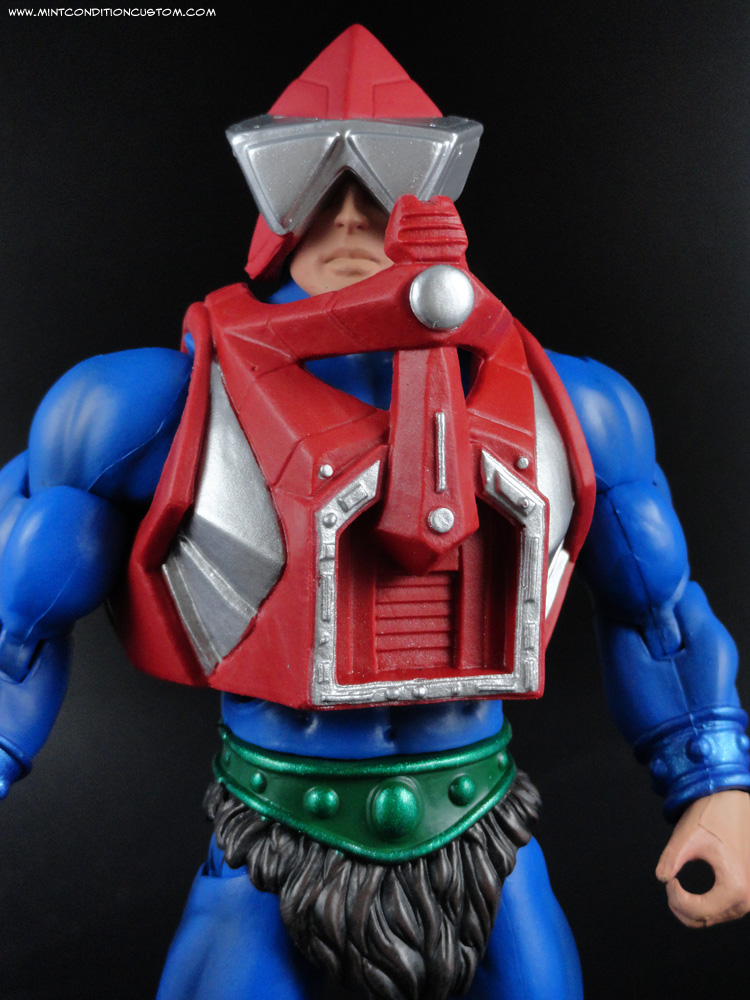 Mattel manages to spread out the characters in the Masters of the Universe Classics toy line by having an equal amount of the more popular characters with the lesser known characters. This is a great business strategy, and makes it even more exciting when one of your favorites finally shows up. Mekaneck is one of my top 3 favorite MOTU characters (the other two being Man-E-Faces, and my absolute favorite which is Rio Blast), and it's grea to finally have him in the line. He's without a doubt an essential character to the Masters of the Universe mythos, being that his was one of the figures released early on, when MOTU was still a new brand.
So join me as I take a closer look at Mekaneck and see if he's lived up to the expectations of many fans.
MEKANECK
Heroic Human Periscope!™

REAL NAME: Orius

Injured in the Battle of the Avion during the Great Unrest, Orius was brought by Duncan to Castle Grayskull where he was healed by the Sorceress. The magic spell replaced his neck with an ever-expanding mechanical construction made of microscopic nanites. By increasing or decreasing the number of nanites in his body, Orius gained the ability to grow his neck to almost unlimited length. Taking the code name Mekaneck, he served the royal household as a loyal member of the Masters of the Universe, using his amazing periscope neck to spy on the evil enemy.
PACKAGING – Mekaneck comes in the standard Masters of the Universe Classics style packaging. It hasn't changed since its inception, and if you know MOTUC, then you're familiar with the packaging. The figure is displayed nicely inside with all of the accessories in plain view. The back shows off other figures in the line, and gives us a new bio for for the character.

SCULPT – Mekaneck uses the standard Masters of the Universe Classics style body, mimicking the style in which the vintage figures were made. It's the basic male "buck" body, utilizing He-Man's boots, He-Man's loincloth, and the forearms with the same style bracer on both sides. His armor is reused from Stinkor, again, mimicking the vintage figures. The only new piece on the body is the head, and for this character that's all we needed.

The head is a great update to the vintage figure, with a stoic expression on his face, and a large visored helmet on top of his head. The one complaint I would have with it is that the helmet doesn't seem to be positioned exactly right. Going off human anatomy, his eyes wouldn't even be looking through the visor with the way they're sitting. It seems like it should be a bit lower, and it's just a slight production error. His head is likely made of 2 pieces combined, so it might be possible to heat it up and remove and it place it back properly. This isn't a gigantic flaw, but it's definitely worth mentioning.

PAINT – Mekaneck's body is largely cast in a blue color, with some darker airbrushing to bring out the sculpt. His forearm bracers are also blue, but with metallic accenting to help them stand out. His belt is done in a similar way, with it being painted green with metallic accenting on the jewels. There's some great dry brushing in his loincloth, and his boots are painted a light gray, with the straps painted silver.

His armor is painted red with some silver accents, and for the most part is well done. There are a few areas where the silver bleeds onto the red, and vice versa. Again, not a huge flaw, but something you may notice upon closer inspection. From what I can tell though, his head is painted great, and I can't seem to find anything wrong with the paint there.

ARTICULATION – Mekaneck features the standard MOTUC articulation. He has a ball jointed neck, ball jointed shoulders, bicep swivels, single elbows, wrist rotators, ab crunch, waist swivel, ball jointed hips, thigh swivels, single knees, boot rotators, and ankle hinges with rocker motion.

All the joints work great, and I'm happy to say that Mekaneck has very tight ankle joints. He uses the newer style of ankle joint, where the pins are covered from the outside, adding friction and making it tighter. His armor doesn't hinder his ab crunch either, so that's a plus.

I know many fans would want these figures to have double elbows and knees, but I'm honestly completely happy with this articulation model. It works for these characters, and I've never had a hard time getting one into a pose that I wanted.

ACCESSORIES – Mekaneck comes with three accessories. He includes to outstretched neck pieces (one short, one long), and his mace, recreated from the vintage accessory.

The way they did his vintage action feature here is a really great idea, and exactly as I imagined they would. Instead of his neck extending from his body, you just pop off his head, and pop on a neck piece. The short neck piece is 2 inches long, and the longer piece is 5 inches long. The both feature a blue ring at the bottom to help stabilize them that blends in with the base of his neck. It's a great idea for stability, but for those wanting to combine the neck pieces to have a Mekanek with a 7 inch long neck, they'd have to contend with a blue ring somewhere in the middle of the length of the neck.

At any rate, the neck pieces do look great for the most part. They're painted gray with a really great wash over them to help bring out the sculpt. There's also some light metallic accenting throughout. They're not perfect though, as there are a couple of paint flaws. The short neck piece has some of the blue paint scratched off the base, and the long neck piece has a smear of blue paint near the top. Hopefully it's not a widespread error, but it's something I noticed right away out of the packaging. Something else I noticed is that, despite the stabilizer at the base of his neck pieces, there's still a lot of wobbling. It's going to be incredibly hard to get Mekaneck to stand with his neck straight up if that's what you're wanting, so be careful for that.

Mekaneck's mace, on the other hand, looks fantastic. It's a wonderful recreation of the vintage figure's mace. It's painted yellow with some metallic yellow accenting the studs all around the made. It fits perfectly into either of his hands and makes for a great weapon for him.

Also, while it's not technically an accessory, it's worth mentioning that like most of the other MOTUC figures, his armor is removable. Just pop off the tabs on the back, remove the head, and it slides right off. It's made from a very pliable resin, so it offers no resistance.

FUN – For me, having this figure is a ton of fun. as I mentioned before, Mekaneck is one of my favorite Masters of the Universe characters, so finally having him in the Classics line is amazing. That being said, I'll try to be as objective as possible.

For the most part, he's as fun as any other MOTUC figure. He has the same articulation and design, so if sword and sorcery mixed with sci-fi isn't your thing, you may not find him fun. But with the addition of his signature mechanized neck pieces, it really adds to the display and fun factor of the figure. You could waste a good while just popping the neck pieces on and off and stacking them up high just to see what it looks like. Mekaneck comes from a time when the entire concept for these characters was pure fun, and it translates into the Classics version.

QUALITY CONTROL/THINGS TO WATCH OUT FOR – Just watch out for any paint flaws on the neck pieces.

OVERALL – This is a really great, very solidly made action figure. The sculpt fits in perfect with the line, and is a fantastic update to the vintage figure. All of his joints are nice and tight, and there's no problems posing him. His accessories are character approrpriate, and a brilliant way to recreate the vintage figure's action feature. There are some paint flaws on the neck pieces, which are pretty noticeable. And the helmet doesn't seem to be sitting right on the head.

Regardless, it's still a very fun action figure and a great addition to the Masters of the Universe Classics line. If you collect those figures, then you definitely need to add him to your collection. Despite the flaws, this is a really good toy.

FINAL SCORE: 3 / 5

Where to buy: This was originally sold on Mattycollector.com, and is now sold out. However, you can look to the following retailers to pick one up.
Be sure to check out these extra photos below that couldn't fit in the review.