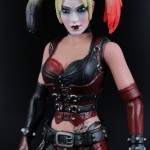 Hey everybody. I'm introducing a new sporadic feature here on Mint Condition Customs. Whenever a great deal pops up on Amazon, or BBTS, or Entertainment Earth, you'll know about it right here. Today, I've found two amazing deals on Amazon. That's the reason it will be sporadic, because there's no telling when these great deals will pop up.
Right now they have the Marvel Legends Series 3 Neo Classic Iron Man figure for just $5.49!
They also have the Batman Legacy Arkham City Harley Quinn figure for just $4.99!
Just click on those links above to go to the corresponding page. I hope this helps someone out there.