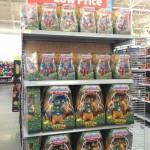 Last week, it was reported that Masters of the Universe Classics figures were being sold at a Walmart in California. Mattel Brand Manager Scott Neitlich (AKA ToyGuru) has finally responded to why this is happening.
Continue reading ToyGuru's response after the jump.

Took us a few days to get to the bottom of this one. Bottom line is these items were not sold to WMT. They appear to be at only one single location and this WMT aquired them on the secondary market from a third party. Mattel did not set up this end cap or this promotion. There are no plans for MOTUC to be distributed at retail at this time. Maybe the toy aisle manager is a big MOTU fan. Not really sure, but this is not a Mattel program. That i can confirm.
That's all the response for now. Perhaps there will be something further in time. I don't know if they plan to contact that Walmart's manager and ask where they got the product or not, but for now it seems confirmed that Mattel didn't facilitate this. Thanks to He-Man.org for the initial report. If you'd like to join in their fan discussion about this, just click here. Also, feel free to discuss in the comments below. I'd love to hear your thoughts on the matter.