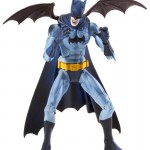 Holy Batman figure variants, Batman! I have to admit, this one was unexpected, to say the least. In an article posted on the LA Times today, this Vampire Batman figure was revealed. It's based on the Elseworlds comic from the early 90's where Batman was indeed turned into a vampire and proceeded to kill ALL THE PEOPLE. It's actually kind of awesome.
The article says that the figure is from Mattel's DC Unlimited line, but I think that might be wrong. This clearly belongs in the Batman Unlimited line. At any rate, I'm sure we'll get clarification on this, as well as many more awesome reveals when Toy Fair comes next weekend. Thanks to Toy News International for the larger image.
Continue after the jump for the full image.