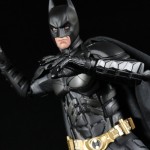 Hey everybody! So for today's review, I have a bit of a twist. Instead of my usual text reviews, I have my very first ever video review! That's right, it's a video review. But don't worry, I won't be switching to video reviews permanently, but every now and then when I get something special, I might do a video. Today's subject is indeed special, as I take a look at the Hot Toys Dark Knight Rises Batman DX12 action figure.
Luckily I've got plenty of experience working with editing software, and Adobe Premiere is very intuitive. That being said, if you find any of the following review bad, in any way, I promise to get better ha ha. Enjoy.

And if you're still needing to buy this figure, you can still get it at BigBadToyStore.
And check out the gallery of images below. Just click on each thumbnail to view it.