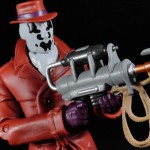 Hey everybody! So here's my second video review ever! Today I take a look at the Watchmen Club Black Freighter Rorschach figure from Mattel. Again, if it seems rough in any way, I promise I'll try and get better ha ha.
Just continue after the jump to check out the review!

If you still need to buy this figure, you can get it on Amazon right now.
And be sure to check out the photo gallery. Just click on each thumbnail to enlarge.