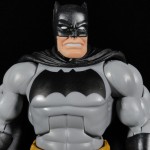 Hey everybody! I have another video review for you. Yes, I know it's kind of soon since my last one was posted just Friday, but I really couldn't wait to get this one up! Today, I take a look at the brand new Batman Unlimited Dark Knight Returns Batman figure from Mattel, based on the graphic novel The Dark Knight Returns by Frank Miller!
Continue after the jump for the video and photo gallery.

Be sure to check out the gallery below. Just click on each thumbnail to enlarge.