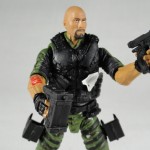 Hey everybody! I have a new video review up on Youtube. Today, I take a close look at the G.I. Joe Retaliation Battle Kata Roadblock action figure from Hasbro. I don't plan on doing only video reviews, it just keeps working out that way recently. If you still need to purchase this figure, it's currently for sale on BigBadToyStore right now!
Anyway, I'm excited about it, because I think I've finally worked through the kinks to deliver a really nice HD video. It definitely feels awesome to be working on "movies" again, and working out my editing muscles.
Continue after they jump for the video and image gallery.

And don't forget to check out the gallery below. Just click on each thumbnail to enlarge.