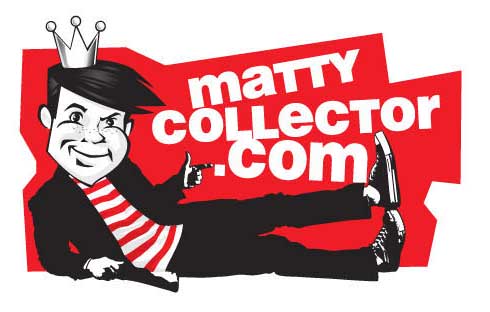 Holy inquiries, Batman! The fans have spoken, and they have a lot of questions about the upcoming 1966 Adam West Batman toy line that Mattel is putting out. It's not too surprising though, there is a lot of buzz surrounding it. So yes, this round is mostly Batman related questions. But enough from me, let's get to the Q&A!
Black Arbor asks: At Toy Fair in February, we saw the mock-up packaging for the 60′s batman figures. Now, on the Batman and Robin two pack with a wall display base, Robin's word balloon says "Holy High-rise, Batman!" which is perfectly fine, considering it's a building side display, but for the single figure packaging his word balloon says the same thing. Is it possible to have Robin's word balloon on each figures card be different? For example, maybe Batman's packaging could have him saying " Holy Happenstance!" and the Riddler's packaging could have him saying " Holy inquisition!". Again, this is just a suggestion, and I'm very excited for these figures!
Holy Interesting Idea! The Classic TV Series Batman line is scheduled to hit shelves this summer. You'll have to check out the packaging then!
CAL asks: Looking forward to the Batman 1966 line. Has Mattel considered releasing the Romero Joker with a Joker utility belt ? Those episodes where among my very top favorites of the show.

Our team loves The Joker episodes too! The Joker figure does not come with a utility belt, however he does come with the painted-over-moustache!
969 asks: I have heard rumors that Mattel does not have the rights to Yvonne Craig's likeness because she has not signed yet. Is this true, or are these just rumors and a Batgirl figure will be in the near future ?
The 2013 line was announced at NYTF and is set with these fantastic figures: Batman, The Riddler, The Penguin, The Joker, Catwoman, and Surfing Contest Batman.
Joel ramos asks: I saw a prototype for the '66 Batmobile for the Adam West line. When are gonna have our '89 Batman WITH the BATMOBILE?
We would love one of those too! For now, just bask in the excitement of the Classic TV Series Batman Batmobile – it is AMAZING!
j31578 asks: Does Mattel have any plans to relaunch a DC super heroes line in 3-3/4″? DC Collectibles jumped into making figures in that size recently so there must be a market for them. The Infinite Heroes line couldn't ever be compared in quality to Hasbro's 3-3/4″ comic book heroes line, do you think that is why it failed?
You'll have to wait for our 2014 previews to see what the future holds! San Diego Comic Con is right around the corner…
Ok, that last answer really intrigued me…they seem to be playing coy, but could it really be possible that Mattel is attempting a new 3 3/4″ DC comic book line? Hopefully, but apparently we'll have to wait a little while to see what that's about.
Well, that's it for this round of Ask Mattel. Join us again on May 1st for another session, and be on the lookout for the thread where you can ask your own questions for Mattel!