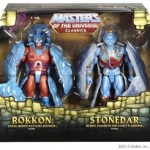 Mattel just revealed the first of their upcoming San Diego Comic-Con 2013 exclusives! Every day this week from Monday April 29th to Friday May 3rd, Mattel will reveal a new SDCC product. So make sure to check back every day so you don't miss a single one! The first 2013 SDCC exclusive revealed is a Masters of the Universe Classics 2-pack of Rokkon and Stonedar, The Comet Warriors! These are very long awaited in the Masters of the Universe Classics toy line.
EDIT: Mattel just posted a closeup of the bios for Rokkon & Stonedar! Continue after the jump for more information, and some great pictures showing them off!

Masters of the Universe® Classics Rokkon™ & Stonedar™ 2-Pack

The Comet Warriors have arrived! This 2-pack of vintage MOTU Rockmen figures includes the young and excitable Rokkon™ and the wise and heroic Stonedar™. Recreate the Filmation look with snap-on arm and leg armor, or go bold(er) and transform into full rock mode with the additional snap-on front piece! Each figure also comes with trademark laser gun that they can hold, or can be snapped into chest. These figures, sculpted by the Four Horsemen, come in window box packaging and are not part of Club Eternia.

This product will be available for pre-order at MattyCollector.com on June 4, 2013, to be picked up at San Diego Comic-Con (details to come). It will also be available for purchase at the show, then at MattyCollector.com on August 5, 2013.