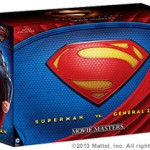 Today continues the week of 2013 San Diego Comic-Con reveals from Mattel. Today's reveal is for the highly anticipated upcoming movie Man of Steel. It's a 2 pack featuring Superman and Zod in the Movie Masters scale, but in classic Mattel tradition, it's not just the figures that make this set special, but the box has a lot of great features as well!
Continue after the jump for more information and a photo!

DC Man of Steel™ Movie Masters® Superman™ vs. General Zod Movie Pack

This 2-pack brings to life the super charged battle between two powerful Kryptonians, Superman™ and the General Zod, an exciting diorama set in the city of Metropolis! The package features lights that simulate Superman's Heat Ray vision, and shows off the Kryptonian's super strength and flying ability. The diorama is completed with sound effects to help bring the scene to life. Full image will be available on 6/17.

This product will be available for pre-order at MattyCollector.com on June 4, 2013, to be picked up at San Diego Comic-Con (details to come). It will also be available for purchase at the show, then at MattyCollector.com on August 5, 2013.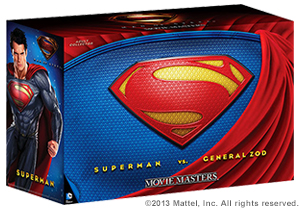 Unfortunately no other images are available yet, but one can imagine it will be one of those sets that you don't even want to open, because of how cool the packaging is. I'm not a MOC collector at all, and plenty of Mattel's SDCC packages in the past have put me in this quandry, ha ha.