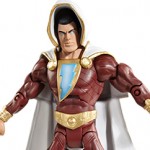 Continuing the 2013 San Diego Comic-Con reveals this week from Mattel, we now have the latest one: New 52 Shazam, for the DC Club Infinite Earths. This won't be in the subscription at all, and will only be available for sale at 2013 San Diego Comic-con, and then later on Mattycollector.com. Well I have to say, this is a surprise. For those expecting Granny Goodness, a new Doomsday, or even Sgt. Rock, you might be disappointed in this reveal. For those excited about the New 52, this may be for you.
Continue after the jump for more information, and some pics!

DCU Club Infinite Earths "Shazam!" New 52

Sculpted by the Four Horsemen, this is the first ever figure of the New 52 Billy Batson, the boy turned DC Super Hero known as "Shazam!" Not included with club subscriptions, this figure arrives with a removable hood in Club Infinite Earths die cut packaging with distinctive silver foil. The perfect addition to your DCU collection!

This product will be available for pre-order at MattyCollector.com on June 4, 2013, to be picked up at San Diego Comic-Con (details to come). It will also be available for purchase at the show, then at MattyCollector.com on August 5, 2013.