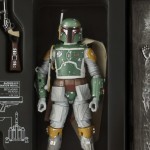 USA Today got the exclusive for this, so thanks to them for breaking the story. We now have a fantastic look at the fully revealed 2013 San Diego Comic-Con exclusive Star Wars the Black Series Boba Fett with Han Solo in carbonite. It will be sold at the Hasbro booth at San Diego Comic Con from July 18th to 21st, and it will cost $44.99. Yeah, I know, that's a pretty big price for a 6″ figure, even with all the accessories he comes with, and considering the retail figures will only cost about $20.
And speaking of, now is a good time to point out that Boba Fett himself is not the exclusive. Before fans get up in arms, there will be a retail version of Boba Fett released in the 6″ scale in The Black Series. The part that makes this set unique and exclusive is that picking him up at 2013 San Diego Comic-Con is the only way to get Han Solo in carbonite. I know what you're gonna say "that still sucks!", and I completely agree. But I'm sure he'll be available after the show on Hasbro Toy Shop, but who knows how easy it will be to get him. Anyway, I digress.
Shop for Star Wars figures on BigBadToyStore!
Continue after the jump for full details, and some great photos!


Boba Fett comes packed with his blaster rifle, his pistol, his jet pack, and of course Han Solo frozen in carbonite.
Kids of all ages can relive the moments in the Cloud City of Bespin during The Empire Strikes Back where Boba Fett hauls off his prey, or the scenes in Return of the Jedi where the iconic bounty hunter has taken Solo to Jabba the Hutt's palace on Tattooine.

The special-edition set is priced at $44.99 and will be sold at the Hasbro booth at the San Diego Convention Center July 18-21.

The first wave of four Black Series figures, due out in early to mid-August, includes Luke Skywalker in his X-Wing Fighter flight suit, fan-favorite droid R2-D2, Sith lord Darth Maul and an Imperial Sandtrooper.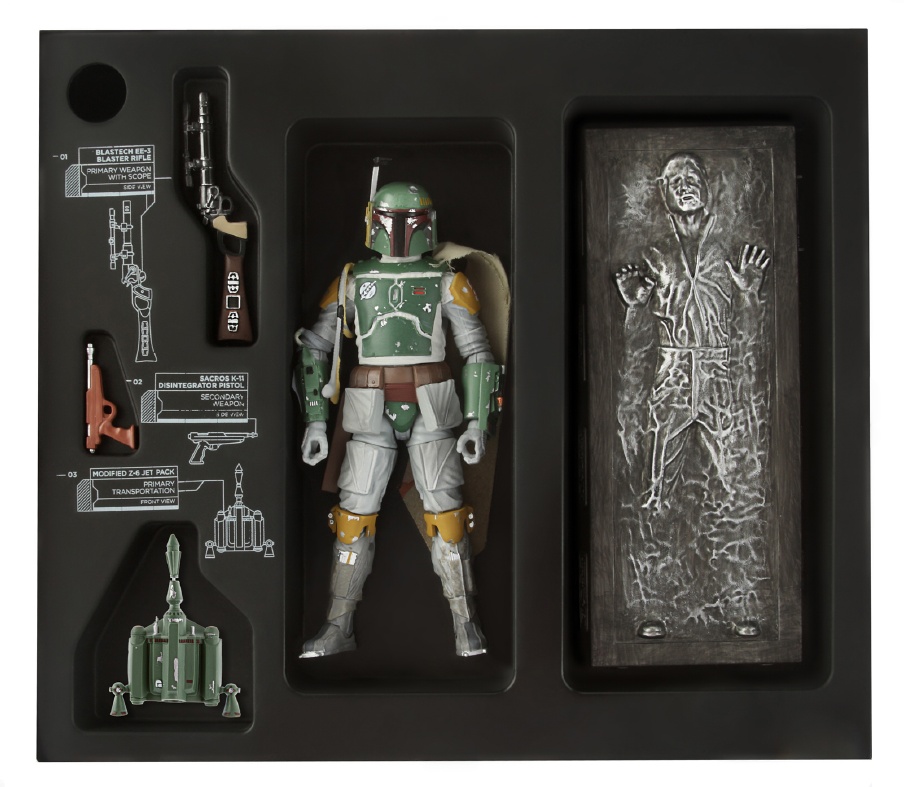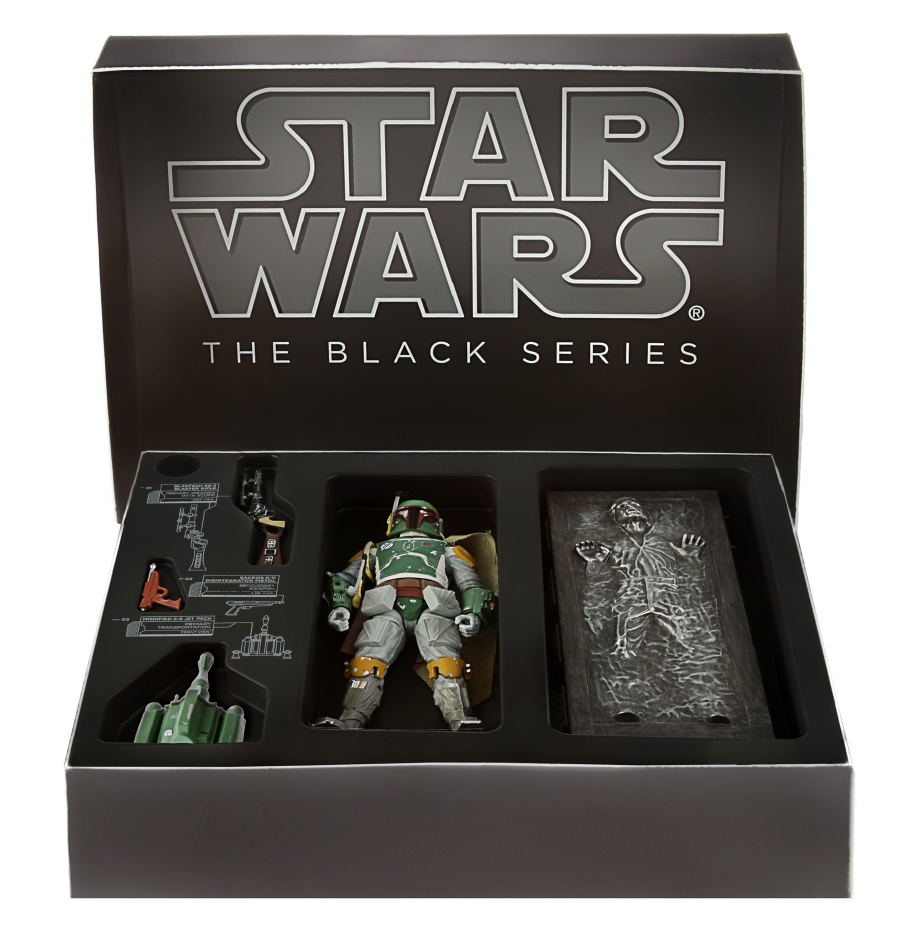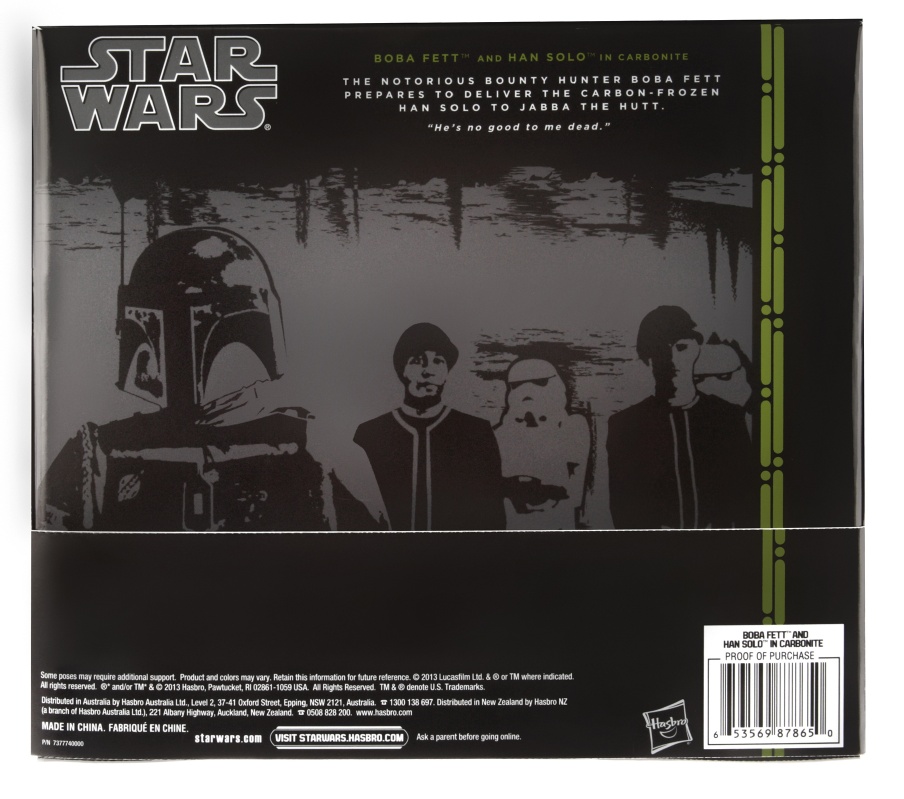 I have to reiterate, I do think $45 is a bit much for this set. Don't get me wrong, it looks incredible. The Boba Fett figure itself looks exactly as I would expect it to in this line, i.e. completely amazing. I love all the paint details you can see in the figure and in the accessories, and just at a glance it looks as if his guns will fit in his hands which is more of problem than you'd think in the toy world.
I think the packaging is beautiful. It's reminiscent of high-end 1/6 scale packaging, like what we see from Hot Toys, but on a smaller scale. Even the cool, subtle design of Boba Fett's helmet visor on the cover is a very nice touch. I love every bit of this set. I'm just not sure if the Han Solo in carbonite is worth an extra $25. But that will ultimately be for you to decide. Stay on the lookout here if this set gets put up on any websites for pre order, and if it ends up showing on Hasbro Toy Shop.